Starrett Multi-Purpose Intenss Band Saw Blades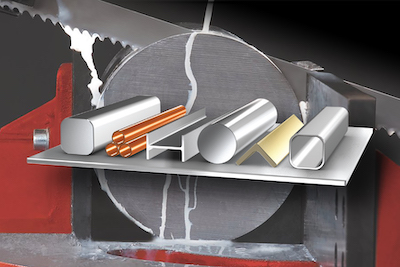 The L.S. Starrett Company, a global manufacturer of precision hand tools and gages, power tool accessories, saw blades and more, offers the newly positioned IntenssTM Bi-Metal Band Saw Blades for general purpose metal sawing of a wide range of materials and shapes.
Featuring a patented process developed by Starrett called bi-metal unique® technology, that provides 170% more weld contact with the teeth, Intenss blades exhibit superior resistance to tooth strippage, significantly reducing fracture and breakage, which enables exceptionally long blade life. Performance is further enhanced by M-42 teeth with a multi-edge tooth design that produces split chips for faster cutting.
"Starrett Intenss is an ideal affordable workhorse blade for general sawing in toolrooms, maintenance shops and fabricating or machine shop applications where one blade cutting a wide range of common materials with different shapes is a good sawing solution," said Jordan Schimel, Starrett Product Manager – Saws & Hand Tools. "In addition, bi-metal unique promotes long blade life, so fewer blade changes are required."
Starrett Intenss Bi-Metal Blades are available in 1/2", 3/4" and 1" widths and .025" and .035" thicknesses, featuring bi-metal unique. Blades in 1-1/4" or 1-1/2" widths and .035" and .042" thicknesses are also available, without the bi-metal unique feature. Intenss blades are offered in pitches of 10, 14 or 18, and 2-3, 3-4, 4-6 and 5-8 variable pitches. Coil lengths are available in 100' (30m), 150' (45m) or 250' (75m), depending on blade widths. Starrett Intenss blades are available in stock at Starrett industrial distributors or can be ordered on www.starrett.com.
For more information, see a video, or request a guaranteed blade satisfaction trial, visit www.starrett.com/intenss.