Cables & Lights: Streamlight E-Flood LiteBox HL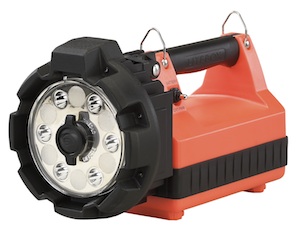 Streamlight, Inc., introduces the E-Flood LiteBox HL, a rechargeable, industrial duty flood light that delivers maximum illumination at 3,600 lumens.
The portable lantern uses six C4 LEDs and six wide pattern reflectors to produce a broad, uniform beam of light for illuminating large areas such as a plant floor or rescue scene. The lantern also allows users to select from two beam widths and three light intensity modes.
On high, the light provides a flood beam of 3,600 lumens and 31,000 candela peak beam intensity; on medium, it delivers 2,400 lumens and 20,000 candela; on low, it provides 1,200 lumens and 11,000 candela.
Beam distances are 352, 283 and 210 meters, respectively. Run times range from 2 hours on high to 8 hours on low.
The lantern uses a 12 volt 7.2Ah sealed lead acid battery that is rechargeable up to 500 times; red and green LEDs provide charge status feedback. The battery will continue to charge while operating directly from an external 12V DC power source when using the included remote cord. The light fits existing LiteBox chargers.
The E-Flood LiteBox HL measures 12.3 inches and weighs 10.4 pounds. The light features a high-impact ABS thermoplastic housing with an elastomer impact bumper and lens ring, and a cushioned handle that facilitates glove-gripping.
Available in international safety orange, the E-Flood LiteBox HL is available in either a Standard or Vehicle Mount System. The Standard option features AC and DC chargers/rack, and the Vehicle Mount option features a vehicle-mountable hard-wire rack which meets the requirements of NFPA 1901-14.1.11.2 (2003) mounted in any position. Both systems include integral D-rings that allow for attachment of an included shoulder strap.
Both the Standard and Vehicle Mount Systems of the E-Flood LiteBox HL have an MSRP of $600.00, and come with Streamlight's Limited Lifetime Warranty.
For additional information, please call 800-523-7488 or visit www.streamlight.com.