Tillman TIG 1332 Welding Glove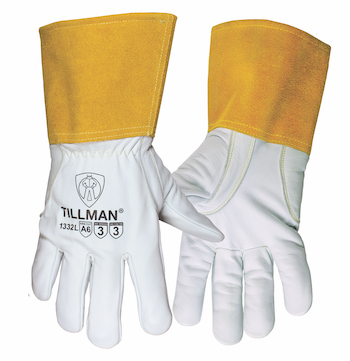 The John Tillman company has introduced a TIG (Tungsten Inert Gas) welding glove, giving TIG welders the key advantages of soft, pliable Goatskin while offering outstanding cut, abrasion, and puncture resistance, along with an exceptional combination of features. Tillman's core audience of welding professionals demanded something more from their TIG gloves, and Tillman's 1332 is the answer. More protection, but with truly superior materials, with superior dexterity.
The 1332 starts with the highest quality top grain Goatskin, not only known for its softness, but is notable for its ability to out-wear other leathers of the same weight; it is nature's strongest leather. And yet, it still provides great tactility and sensitivity, even in grimy conditions. It provides exceptional abrasion-resistant properties, so it stays tough and durable. It has a great feel, for all day comfort.
Tillman started making welding gloves over 90+ years ago, and today they continue to be the leader of Personal Protection gear, in welding gloves and garments, protective curtains and blankets, and high heat protection.
Tillman knows gloves. And in particular, welding gloves. Tillman prides itself on providing solutions that are crucial to the industry, uncompromising in quality, and extraordinary in their performance. Tillman's gloves have meaningful features that always strive to answer the needs of talented craftsmen and women who use them. Tillman knows the difference is in their attention to detail, and they do not compromise on providing the best.
With the balance of managing the torch and adding the filler material, the TIG welder relies on a delicate touch to glide the filler rod on the glove. TIG gloves generally are thinner and have more of a conforming feel to the hand to provide the welders with the dexterity and touch they require. Tillman's top grain Goatskin leather offers the characteristics needed to maximize the welder's sense of feel and dexterity.
"We are seeing more welders using TIG gloves that can also have multi-use applications when handling materials and welding", said Robin Whitman, Marketing Manager at J.Tillman, "The gloves need to be versatile, and provide protection for a diverse set of environments. The 1332 is the answer."
The 1332 is no exception to Tillman's vast portfolio of glove protection: Softness of top grain Goatskin, with ANSI certified cut, abrasion, and puncture ratings. ANSI, the American National Standards Institute, provides industry standard, coveted certification of products, ensuring that they do what manufacturers claim. As always, Tillman's products come through with flying colors, and are as durable and robust as they are great-looking.
ANSI gave the 1332 a cut resistant rating of A6 to provide the cut resistance a TIG welder requires when in a fabrication shop or when handling sharp sheets of material.
The Abrasion and Puncture rating of A3 means that the gloves withstand grinding, sharp elements that might have a chance to poke through the glove. When added with Goatskin, the Para-Aramid lining accomplishes this important goal.
Para-Aramid lining is made of synthetic polymer and is extremely strong, with its strength to weight ratio giving it a lightweight feel. The tensile strength of Para-Aramid means its engineered to withstand maximum stress while being stretched or pulled before it can break. Its resistance to high heat means it neither melts nor ignites in normal high heat conditions. This outstanding performance of Para-Aramid fibers is well known and used throughout high tech and military applications, for providing bullet proof body armor fabric.
An often-overlooked topic with TIG welding is that UV radiation is created with TIG welding. It will burn unprotected skin, just like UV rays from sunlight, as well as the UV rays reflected from metal surfaces, walls, and ceilings. Tillman addressed this with a 4" cuff on the 1332 and always encourage TIG welders to wear an appropriate welding jacket of sleeves to protect themselves from harmful UV rays.
Other thoughtful details create non-stop protection: a glide patch of an additional leather layer along the outer palm helps provide targeted cushioning and support; the cuff is split Goatskin, and the cuff length/hem is specifically positioned on the inside of the palm, to avoid being snagged on a table, for an easy glide- and most importantly, error-free welds. The straight thumb style is a continuous full thumb, perpendicular to the wrist, and specifically used where a great grip and control are needed.
For TIG welding, there's a glove that can provide the best in tactility, while protecting against harmful UV; all while giving cut, abrasion, and puncture resistance: Tillman's 1332.
Go to https://jtillman.com to learn more about the 1332 glove.