Trend Air Stealth Lite Disposable N99 Mask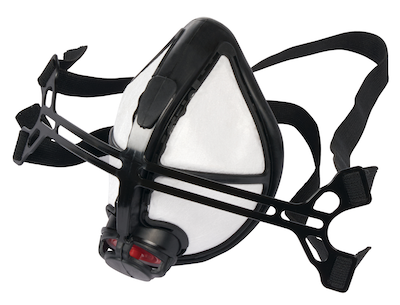 The Trend Air Stealth Lite (TASL) is the only disposable N99 mask that offers the same features as reuseable half mask respirators. The exclusive HEPAC-LITE layered media filter material is fiberglass free and it offers up to 99.97% filtration efficiency down to 0.3 microns.
The lightweight thermoplastic elastomer face seal adapts to facial contours and it is manufactured from high grade hypoallergenic (latex, silicone and odor free) materials which can be worn for 8+ hours. The combination of up to 99.97% filtration and a 0.14% inward leakage makes the it the most effective N99 disposable mask available.
Jason Durstock, Business Development Manager for Trend stated, "larger construction firms, cabinet shops and industrial companies have been searching for a premium grade mask that offers superior protection, is affordable and that is disposable – we offer these features and more as we have combined key features from our Air Stealth N100 mask such as downward facing exhalation, compact design and unique integral sample port and plug.
Durstock continued, "with all of these unique features and the fact that TASL offers personal protection against a wide variety of materials including silica dust, asbestos, non-petroleum based aerosols, smoke particulates and bacteria and viruses, we have an innovative filtration solution for people in multiple industries and occupations."
Trend Air Stealth Lite is offered as a single frame and filter assembly (part #STE/LP/ML) and it has a street price of $11.99. Five packs of replacement filters (part #STE/LP/ML/5) will be available in January, 2021 with a street price of $54.95. For more information on the Trend product line, please go to www.trend-usa.com.