Abrasives: Uneeda Multi-Hole Discs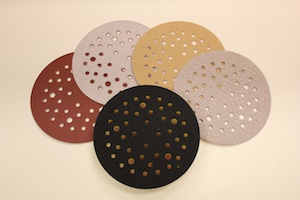 Available in EKASTORM, EKAFORCE, UAOFG, UAOFR, RKJFON & EKAWET in Hook & Loop. Multi-Hole Discs offer "dustless sanding" for a cleaner surface, a cleaner environment and lower labor costs.
For aggressive sanding, we recommend the 51 multi-hole pattern with center hole in grits 80 to 150 which will extract more dust than most competitor's discs.
For fine grits we recommend our 5-inch 44 hole or 6-inch 52 hole pattern which leave a better scratch pattern.
Multi-Hole Discs work best with our Multi-Hole Backup pads since they have the ability to extract very fine dust.
Uneeda Enterprizes has been a leading abrasive suppier since 1967. We pride ourselves on supplying the best quality sandpaper and associated abrasive products at affordable rates. Whether you are looking for belt sandpaper (wide or narrow sanding belt), sanding machines or other abrasives, you will find them at Uneeda Enterprizes.
For more information, email sales@uneeda.com or call 800-431-2494.