Abrasives: Weiler 4 1/2 Inch Power Brushes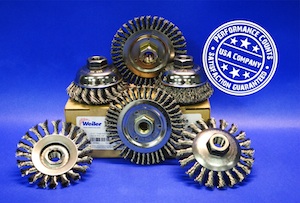 Are you still using power brushes designed for a 4" grinder? If so, both you and your tool are working too hard! Weiler Corporation offers a full assortment of high performance, American made wire brushes engineered specifically for use on 4-1/2" right angle grinders.
Weiler's assortment of high-performance power brushes for use on 4-1/2" angle grinders includes:
The 4-1/2" Mini-Roughneck Stringer Bead Wheels feature a high knot count and short trim length to produce the fastest, most effective cleaning action and longest product life on your 4-1/2" grinder.
The Dually™ 4-1/2" Weld Cleaning Brush features a dual-hex nut design to simplify periodic flipping of the wheel for maximum efficiency in demanding inter-pass weld cleaning applications.
Standard Twist Knot Wire 4" Bevel Brushes feature a tufted knot end and a saucer-shape design which provides an aggressive-yet-flexible brushing action for cleaning filet welds and into corners.
Weiler's Knot Wire and Crimped Wire Cup 3-1/2" Brushes feature the highest quality construction and materials for maximum performance and long life when cleaning large surfaces.
Why use these brushes instead of a more common 4" stringer bead wheel or 2-3/4" cup brush? Because their larger sizes result in much greater cleaning action, and their heavier-duty construction dramatically increases aggression and prolongs life. This means that they do more work done under lighter applied loads…the brush will last longer, you will last longer and your grinder will last longer.