Hand Tools: VamPLIERS Multi-Purpose Pliers, Screw Extractors and Wire Cutters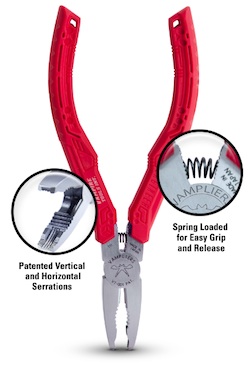 The All-in-One Multi-Purpose Plier, Screw Extractor, and Wire Cutter incorporates a uniquely patented design, which provides the solution to extracting the toughest screws, nuts and bolts. For the first time, users can easily remove stuck, rusted, corroded, damaged and stripped screws in a matter of seconds.
Usually, when a star screw driver, star bit or Torx wrench is not readily available, VamPLIERS are there to easily remove Torx screws, with no more drilling or cutting of any kind!
Patented Design
VamPLIERS utilize a specialized arrangement of both vertical and horizontal serrations inside of the jaws. The unique the vertical serrations lead to the front of the jaws forming the teeth and a curve at the end of the flattened nose to "bite" a larger surface area around the screw, nut, or bolt.
In combination with the rotating motion, these serrations provide the perfect non-slipping "bite" needed to remove the problem screw. The flattened nose at the top also minimizes the possibility of damaging the surface upon which the screws are mounted.
Produced by Kobe Steel of Japan from the highest quality carbon steel, VamPLIERS deliver incomparable strength and durability. Vampire Professional Tools is located in Irvine, CA. For information, phone 949-748-0552 or visit www.vampiretools.com