Hand Tools: General Multi-Pro Screwdrivers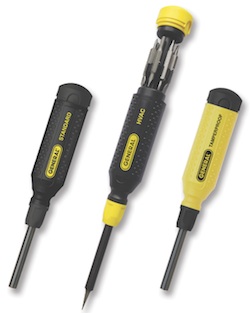 The Made in America Multi-Pro Screwdrivers (8140/8141/8142) from General Tools & Instruments offer several exceptional patented features. The Retractable Bit Cartridge in the handle makes storing, selecting and changing bits quick and easy while saving toolbox space and reducing the risk of lost parts.
The Palm Saver Cap—the largest cap surface in the hand tools industry—remains stationary while turning the driver handle, which provides comfort, prevents blisters and enables one-handed use. The EZ-Guide Collar delivers greater control by maintaining alignment between the screwdriver and the fastener.
An alloy steel shaft and engineered nylon/ABS handle make these tools nearly impossible to break. And the shaft opening also serves as a 1/4 in. hex driver.
A free merchandising display rack is available to retailers. The display holds 20 drivers and features high visual impact signage. It takes up less than 1 square foot of counter space or can be wall-mounted with the included peg board adapter.
The 15-in-1 Multi-Pro Standard Driver (8140) is loaded with seven double-ended professional quality bits, providing the 14 most popular standard bits:
Phillips: 0+3, 1+2
Square: 0+3, 1+2
Torx: 10+15, 20+25
Slotted: 4+6
The 15-in-1 Multi-Pro Tamperproof Driver (8141) contains seven double-ended tamperproof bits, including the most popular security bits:
Hex Pin: 1/8+9/64, 5/32+3/16
Spanner: 6+8, 10+12
Torx Pin: 10+15, 20+25, 27+30
The 14-in-1 Multi-Pro HVAC Screwdriver (8142) is loaded with six double-ended bits and one single-ended bit—including one Specialty Schrader Valve Stem Bit and one Square Awl Reamer Bit—to fit most HVAC applications:
Phillips: 0+3, 1+2, 2+2
Slotted: 3+5, 4+6, 5.5+Schrader Valve Stem
Square Awl Reamer