Drill Bits: Vermont American Woodeater High-Speed Carbon Hole Saw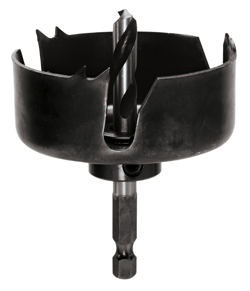 Vermont American's new Woodeater six-tooth carbon hole saw combines high speed and great performance in a value-priced tool. The Woodeater cuts wood up to 7/8" and plastic.
An exclusive design visually differentiates the Woodeater range from standard carbon hole saws while enhancing performance. Versus standard carbon hole saws, the Woodeater lineup offers 5X cutting speed through a unique six-tooth design and 3X life as extra large gullets clear chips and prevent heat buildup.
Additional features include: one-piece design that conveniently includes the mandrel and pilot bit for ease of operation, full product range; ¾" to 2-1/2" and award-winning packaging for easy self-selection.
The Vermont American Woodeater hole saw is available now. To learn more or to find a local dealer, call 1-800-742-3869.