Drill Bits: Starborn Industries SMART-BIT PRO PLUG System for Wood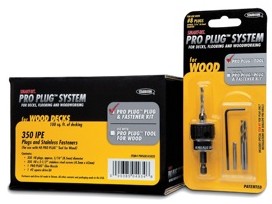 Precisely Engineered System Makes Plugging Simple & Easy, While Delivering Superior Results for Decking, Hardwood Flooring & Woodworking Applications
Starborn Industries, Inc., a leading manufacturer of fasteners and related products for the building industry, has introduced the new SMART-BIT PRO PLUG System to greatly simplify and enhance the beauty of wood plug installations performed within decking, wide plank flooring and woodworking projects. The system includes the PRO PLUG Tool for Wood, the PRO-Plug Glue Nozzle and PRO PLUG Plug & Fastener Kit in different wood species and fastener sizes as well as the PRO-Plug Glue Nozzle, which combine to quickly and consistently create perfectly crafted plugs in less than half the time of other plugging methods.
"Plugging has been used in building and woodworking for hundreds of years to cover and protect the heads of screws as well as define serious craftsmanship," says Paul Gertner, president of Starborn Industries. "However, the process can be time-consuming and tedious. The new SMART-BIT PRO PLUG System was specifically developed to make plugging quicker and easier. It was also engineered by our research team to perfectly install plugs in more than 20 species of decking, flooring and wood, while delivering superior results, plug after plug. In timed trials, it also reduced the time to plug by more than half."
The PRO PLUG System was introduced by Starborn Industries as an ideal solution for plank floor installers and deck builders desiring to repair squeaky floors or combine the proven strength of face screwing with the aesthetics of hidden side-clip systems. Sold separately, the system includes the:
PRO PLUG Tool for Wood, which creates a screw hole and countersink that is perfectly matched to the PRO PLUG fasteners and plugs PRO PLUG Plug & Fastener Kit, which comes complete with wood plugs, screws, driver bit(s) and the company's patent pending PRO PLUG Glue Nozzle that coats the side of the hole where the glue is needed
The system is also available in many popular wood species for decking, flooring and woodworking including Ipe, Meranti, Cambara, Red Oak, Maple and Walnut. Plug & Fastener Kits are sold in quantities of 100, 350 and 1,050 pieces (each of which includes a nozzle) with the tool sold separately.
For more information on the new SMART-BIT PRO PLUG System for Wood please visit www.starbornindustries.com or call 1-800-596-7747. The system can also be found in many lumberyards and hardware stores nationwide as well as purchased online at www.manasquanfasteners.com or www.grainger.com. In addition, a brief SMART-BIT PRO PLUG System video demonstration is available for viewing at http://www.starbornindustries.com/proplugsystem/wood/video_demo.html.