Tool Bags: Veto Pro Pac Cargo Totes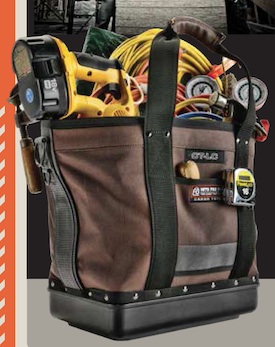 Veto Pro Pac (www.vetopropac.com) is launching their new line of Cargo Totes, the first line of professional grade wide mouth tote bags.
Cargo Totes are the latest addition to the Veto Pro Pac line of high quality tool storage products.
"These rugged totes provide a versatile storage solution for a wide variety of job site situations," says Roger Brouard, founder of Veto Pro Pac. "They are perfect as a catch-all bag for raiding the van; a carry-all bag for end of day cleanup; and they provide a more efficient way to organize the back of the truck."
Designed to stand up to the rigors of daily use, Cargo Totes feature 1800 Denier Body Fabric, leather handle grips and Veto's signature 3mm thick polypropylene waterproof base. Veto's patent pending design keeps the totes standing upright and open at all times. In addition to use on the jobsite, the Cargo Totes are ideal for outdoor activities, everyday home storage, and secondary travel bags.
"The Cargo Totes have taken on so many uses! At the end of the day, I throw all of the miscellaneous tools in, do a quick carry out and organize the back of the trailer, putting the tools in the proper bags ready for the next assignment!" Says Ed Ridgik a General Contractor and owner of Ridgik Renovations.
Jason Harris an electrician in Michigan comments, "Currently we are doing an 800 unit apartment remodel. I tried the CT-LC out today and it was great to be able to carry one bag around all day instead of three. Everything fit and this bag is tough as nails."
Another customer, Ryan Augusta, a carpenter, speaks to the variety of different uses, "I'm using one of the bigger totes, CT-XL, for all my drywall tools, cords, nail guns and my router. It's working great. I'm using the smaller tote, CT-LC, for a kind of range bag; ammo, boots and whatever else I bring with me for the day."
The Caro Totes come in two sizes.
The CT-XL is 16.5" high, 17" long, 9.5" wide and features 5 tiered pockets.
The CT-LC is 14.5" high, 13.5" long, 9.5" wide and features 5 tiered pockets.