Tool Bags: Milwaukee Zipper Pouches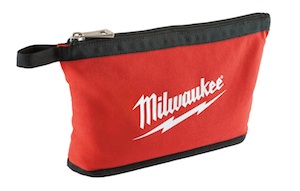 Milwaukee Tool continues to expand storage solutions within its Hand Tool offering with the introduction of four new zipper pouches that will help users stay organized on the job.
Available as a single pack in black, or a 3-pack in red, white, and gray, each bag can easily be identified by the color band at the top for simple organization and accessibility.
The new Milwaukee Zipper Pouches feature a breathable and durable heavy duty canvas construction, as well as a heavy duty zipper that is up to 2X more durable than leading competitors.
For further utility, a water resistant stand-up base allows users to easily view contents and protects tools from contamination. In addition, a webbing loop on one end allows the bags to be hooked together or attached to another bag for multiple organization options.
Among the first in a growing line of storage solutions from Milwaukee, the new Zipper Pouches will be available in November 2014. Dedicated to delivering advanced solutions to increase productivity, Milwaukee's Hand Tool category will continue to grow and offer innovative solutions for the trades.
Model Options
48-22-8180 Black Zippered Pouch
48-22-8193 3 PK Color Zippered Pouches (Red, White & Gray)