WORX 3.0 Amp Oscillating Tool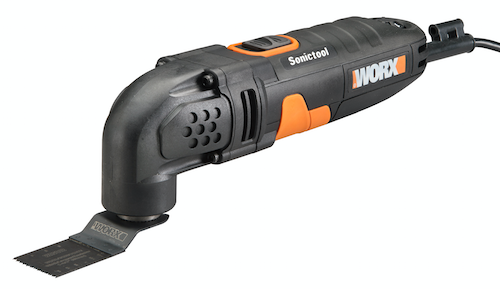 Just in time to tackle an array of summer and fall home improvement projects, the versatile, new WORX 3.0 Amp Oscillating Tool with 9 Accessories is the tool of choice for getting DIY projects done quickly and efficiently. This handy multi-tool features the Universal Fit™ accessory system, variable-speed control and a comfortable, slimmed-down body style.
With the right accessory attached, the compact multi-tool makes short work of numerous home projects and repairs that require cutting, sawing, sanding, scraping, rasping, polishing, shaping and removal of grout or adhesives.
The Universal Fit accessory system enables the WORX 3.0-amp oscillating tool to accept other brands of accessories without adapters. Plus, Universal Fit accessories can be used with all competitors' oscillating tools without sacrificing fit or performance.
Weighing only 2.9 lbs. (without cord), the handy multi-tool has a slimmer grip circumference than any competing brand. It features a variable speed dial to set the oscillating speed, according to the accessory being used and job at hand. Variable oscillating speeds range from 11,000 to 21,000 OPM (oscillations per minute), and the tool's oscillating angle is 3.2o.
Higher oscillating speeds are best for cutting, sawing, sanding, rasping and polishing metal and stone. Lower speeds are used for scraping old paint, hardened adhesives and caulk.
The oscillating tool comes with a 1-3/8 in. standard wood end-cut blade, rigid scraper, sanding pad and six sanding sheets. Also available from WORX is a 27-Piece Oscillating Tool Accessory Kit (WA5701, $39.99) that contains three wood cutting end-cut blades, a High Speed Steel (HSS} semicircle saw blade, a rigid scraper, 20 sanding sheets and an adapter for cordless Dremel and Bosch tools. Purchasing this 27-piece kit represents a significant savings over buying the individual accessories separately.
Here are just some of the jobs these accessories can accomplish:
With an end-cut blade attached, the WORX 3.0-amp oscillating tool can quickly trim doorjambs, remove moldings and baseboard, cut PVC or metal pipe to length or cut nails and screws.
WORX_DIY_3.0A Oscillating Tool_WX668L_vinyl_scrapping.jpgSwitch to a semicircle saw blade to make plunge cuts in walls and ceilings for installing electrical boxes and vents, or cutting drywall.
Clamp on a scraper blade to remove blistered paint, take rust to bare metal or scrape hardened caulk or adhesives. Use a carbide grit semicircle blade to grind grout from between floor or wall tiles.
Triangular sanding pads and sanding sheets are great for sanding in corners and tight spaces.
The WORX 3.0 Amp Oscillating Tool with 9 Accessories (WX668L, $69.99) is available at www.worx.com. It is covered by the WORX three year warranty.