Walter Surface Technologies Instant Polish Flap Discs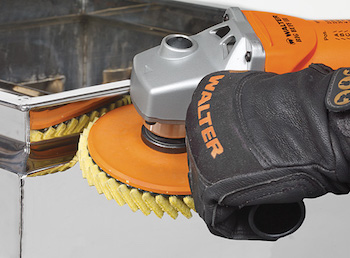 Walter Surface Technologies, the global industry leader in surface treatment technologies, released two outstanding choices for polishing and finishing projects: Instant Polish for fast, single-step finishes and Ultimate Shine for superior mirror finishes.
Metalworking professionals can attain exceptional polishing results in a single, fast and easy step with Walter's new Instant Polish flap discs. Now boasting powerful polishing properties and superior engineering, they can easily achieve No. 8 mirror finishes in a single step. As a result, workers can save more time and money.
This latest Walter innovation is proven to lower metal roughness averages (RA) by 20 micro-inches and achieve mirror finishes at RAs of less than four micro-inches on tough polishing jobs.
"The science, research, and product development behind Instant Polish flap discs is second to none," explains says Jonathan Douville, Senior Product Manager - Senior Product Manager - Surfox, Finishing & Tooling at Walter Surface Technologies. "They offer longevity and exceptional engineering for consistently high-performance polishing in one quick and easy step."
Instant Polish flap discs are available in 4 1/2" and 5" diameter sizes for use at a maximum 7,300 RPM and optimal 2000 RPM, and offer great performance in automotive, transportation, food and beverage equipment, aerospace, naval and pharma industries, and other sector-specific applications.
When ultra-high-performance finishing capability is a priority, look to Walter's Ultimate Shine flap discs. As a second step towards achieving an exceptional mirror finish, Ultimate Shine flap discs ensure a consistent surface finish time and time again. In fact, these flap discs deliver definitive mirror finishes – with Ra ratings under one micro-inch. Long-lasting and versatile, Ultimate Shine flap discs are the ultimate tool and deliver consistent capability on a wide range of finishing projects.
"The Ultimate Shine flap disc is similar to Walter's powerful Instant Polish flap disc," says Douville. "It's a high-performance, long-lasting and productivity-enhancing product. Quite simply, it's the ultimate finishing tool that helps our customers work better."
Ultimate Shine flap discs are available in 4 1/2" and 5" diameter sizes for use at a maximum 7,300 RPM and optimal 2000 RPM. They are safe for use on stainless steel, steel and non-ferrous metals when used with angle grinders.
The all-new Instant Polish and Ultimate Shine flap discs are now available. Visit walter.com for more information.