WORX Nitro 20V Power Share Brushless Drill-Driver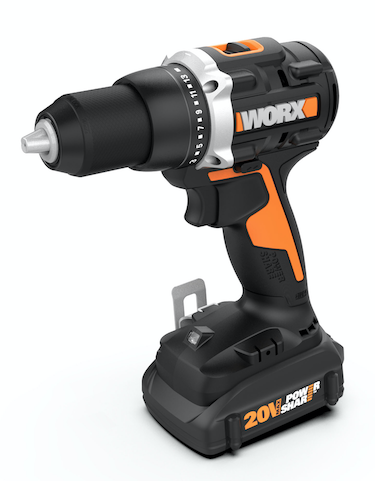 The new WORX Nitro line of professional-grade power tools kicks off the new year with the launch of the WORX 20V Power Share Brushless Drill-Driver. The power driver features brushless motor technology that runs cooler with less friction and provides longer battery runtime.
The drill's brushless motor provides electronically controlled power distribution, which increases battery run time over standard brushed motors. The motor's advanced software improves efficiency for more power and torque, as well as longer tool life.
A drill-driver is one of the first power tools a homeowner adds to the workshop. It's the go-to tool for drilling holes and driving screws. And while brushless motors have been out for some time, the up-charge in owning a drill with a brushless motor versus a drill with a brushed motor is roughly 25 percent more. Factor the tool's life expectancy, and those dollars are well spent.
The WORX Nitro 20V Brushless Drill-Driver is capable of handling a number of building, assembly and repair projects on the jobsite, as well as around the home. This includes projects, such as building basement or garage storage racks, installing kitchen or utility cabinets, hanging drywall, replacing stairs and railings and more. It tackles everyday household tasks, such as installing brackets for drapery or blinds, drilling holes for drywall anchors, attaching bathroom hardware, replacing door sets and hinges, and assembling furniture.
A ratcheting, all-metal, ½ in. chuck provides durability and superior bit retention without slippage. Its ratcheting capability enables the user to hand-tighten the bit, allowing fast bit changes.
The brushless drill-driver is equipped with all-metal gears for dependable performance. Its variable, two-speed gearing delivers no-load speeds of 0-600 and 0-2000 rpm. Its clutch provides 20+1 positions to adjust torque settings, with maximum torque of 531 in.-lbs. The tool's drilling capacity is 1 ½" in. in wood and 1/2 in. in steel.
Weighing only 3.4 lbs. (with 2.0 Ah battery), the drill-driver is lightweight and compact for comfortable handling, maneuverability and easy access into tight spaces. It has a rubber overmold grip with a micro-texture GripZone for optimum comfort. An LED light illuminates the work area and continues to shine for 20 seconds once the trigger is released.
The drill-driver is powered by a WORX 20V 2.0 Ah Max Lithium battery with battery life indicator. Battery charging time is 1 hour. The battery's fuel gauge provides quick reference to remaining runtime. As part of the WORX 20V Power Share Program, the 20V battery is compatible with more than 35 other WORX DIY and lawn and garden tools.
Included with the brushless drill-driver is a 20V Power Share 2.0 Ah battery; 2 A, 1-hr. charger; belt clip; double-ended driver bit; and carrying bag. It is covered by the WORX five-year limited warranty.
The WORX 20V Power Share Brushless Drill-Driver (WX102L, $99.99) is available at worx.com and Amazon. A bare tool version of the Brushless Drill-Driver (WX102L.9, $79.99), minus the battery and charger, also is available.
Established in 1994, WORX Yard Tools USA, based in Charlotte NC, is one of the fastest growing companies serving the global power equipment market today. A diversified manufacturer and marketer of a complete range of electric powered lawn and garden equipment, and related products, WORX has over 4,000 employees worldwide. More information is available on the company's brand website: www.worx.com.
Reach out to WORX social media links visit: Facebook: https://www.facebook.com/worxus?ref=hl; Twitter: https://twitter.com/WORXTools; Pinterest: http://pinterest.com/worxtools and Instagram: @WORXTools