Walter IceCut 250 Auto Mag Drill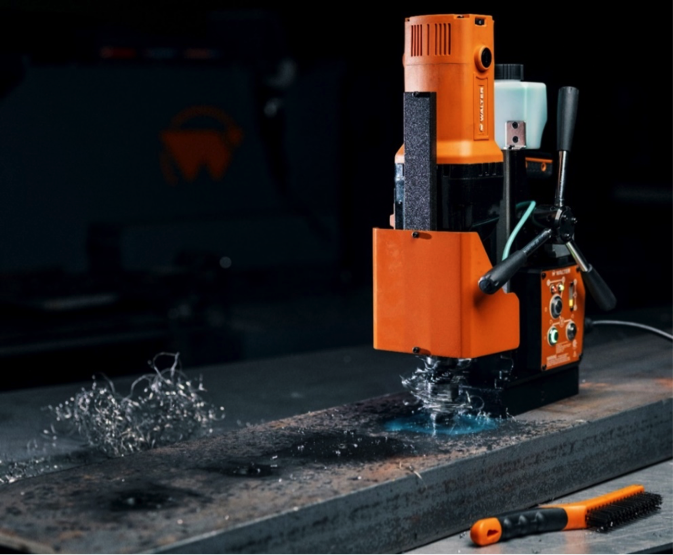 For more than 60 years, WALTER has been providing metalworking solutions to industrial professionals with the ultimate goals of helping them improving their safety, lower their overall cost, and increase the efficiency of their metalworking processes. The new ICECUT 250 AUTO™ is engineered for optimal productivity and safety on the job site.
Available in May 2022, WALTER will be expanding its portfolio of magnetic drilling unit with the launch of the new ICECUT 250 AUTO: a powerful drill unit with automatic feed for maximum consistency & efficiency.
Designed with user productivity in mind, the new ICECUT 250 AUTO magnetic drilling unit features a fully automatic drill feed. The continuous automatic feed ensures consistent, repeatable results, reduces the likelihood of breakage of the cutters and even allows multiple magnetic drill units to be used by one operator.
"We want to help our customers work better. The auto feed function on our new ICECUT 250 AUTO allows the operator to use multiple units at once in a production environment, speeding up drilling processes and improving productivity." – William Furt, Product Manager – Tooling & Magnetic
Thanks to breakthrough detection and auto return, this magnetic drilling unit is ideal for a wide range of large volume drilling operations in industries such as metal fabrication, transportation, and ship building.
Capable of operating on its own, it allows the operator to power multiple units at once with minimal physical effort and achieve maximum consistency and efficiency.
The ICECUT 250 AUTO is also equipped with the ACCUDRILL torque display which prevents the motor from overloading and reduces the risk of cutter breakage. Its advanced technology provides breakthrough detection and auto retract for consistent drilling. The ICECUT 250 AUTO also includes a morse tapper adaptor, making it compatible with twist drills, offering you endless possibilities.
For optimal performance, use with WALTER, Drillco and Triumph's wide range of HSS, Cobalt and Carbide annular cutters.
ICECUT 250 AUTO™️
Continuous automatic feed
The largest capacity magnetic drill with an automatic feed function: 2-3/8" Diameter x 3" Depth of Cut
Advanced technology provides breakthrough detection and auto retract
WALTER's DYNAMAX™ speed control ensures RPM speeds remain constant even under load
ACCUDRILL™ system protects unit from overload and reducing the risk of cutter breakage
Compatible with twist drills (morse taper adaptor included)
WALTER Surface Technologies has been a leader in surface treatment technologies for more than 60 years, and has been providing high productivity abrasives, power tools, tooling, chemical solutions, and environmental solutions for the metal working industry. Founded in 1952, WALTER Surface Technologies is established in 7 countries in North America, South America, and Europe.