Walter Surface Technologies Redesigns the Zip Wheel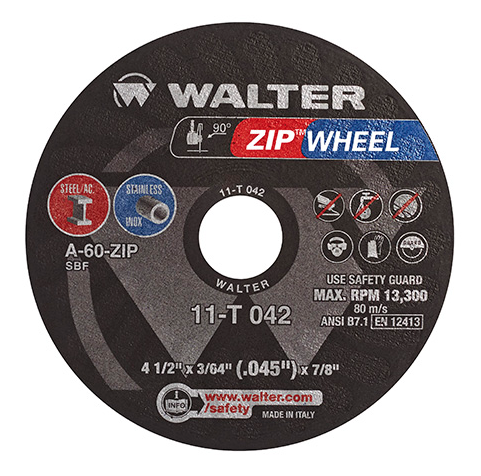 Walter Surface Technologies, a global leader in surface treatment technologies aims to enhance productivity in metalworking shops with the launch of its redesigned Zip Wheel. The new abrasive disc offers even higher efficiency and better performance than its predecessor, making it the top cut-off wheel in its class.
Since the original launch of the product back in 1986, the Zip Wheel has been setting the standard for thin cut-off wheels in the metalworking industry.
"At that time, we set out to design a wheel that delivered the right balance between price, performance and safe design," says Marc Brunet-Gagné, Product Manager, Bonded Abrasives at Walter Surface Technologies.
Now 30 years later, building on that same foundation, the new and improved Zip Wheel has been re-engineered from the ground up, taking its performance to an even higher level and moving well beyond all other cut-off wheels in the industry.
"The new Zip Wheel is made with Walter's proprietary grain blend, so the disc cuts faster than ever through steel and stainless steel, which helps reduce project times and increase productivity at job sites," elaborates Brunet-Gagné.
The disc is now more rigid, which allows for consistently straighter cuts. It was also constructed with a patented reinforced rib design on each side that allows for cooler cutting. "The wheel is more durable, improving its ability to withstand even the toughest materials, not to mention it's much safer for users," adds Brunet-Gagné.
The Zip Wheel is manufactured using a new and improved bond matrix, which greatly improves the life of the cutting disc. "This new design allows the wheel to deliver at least twice as many cuts as other wheels in the industry," adds Brunet-Gagné. "It offers real value over the life of the disc."
In addition, the product reduces its ecological footprint by lasting longer and reducing the amount of dust it creates, resulting in a more favorable work environment. "Because the product lasts so much longer, you ultimately use less wheels, and can therefore reduce your inventory and production costs," says Brunet-Gagné.
The Zip Wheel will be a featured product at Fabtech 2016. Visit Walter's state-of-the-art booth for exclusive product demonstrations with our dedicated team of experts – Booth N2704.