Walter Zip Titan and Chopcut Titan Cutting Discs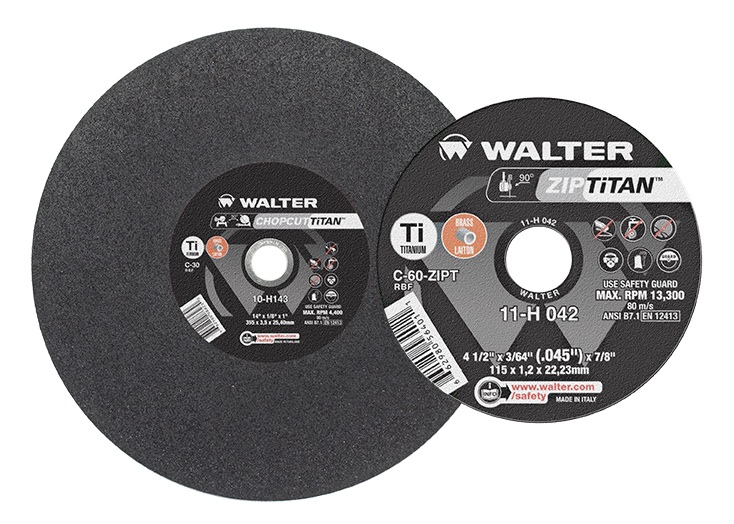 Walter Surface Technologies, a global industry leader in surface treatment technologies, announces the release of its new Zip Titan and Chopcut Titan cutting discs, adding to their extensive line of world-class cutting abrasives.
The new Zip Titan and Chopcut Titan have been specifically designed for cutting titanium and brass with exceptional efficiency.
"Both the Zip Titan and the Chopcut Titan were designed with a unique silicon-carbide based formulation to prevent the materials being cut from overheating," says Marc Brunet-Gagné, Product Manager, Bonded Abrasives at Walter Surface Technologies. "Keeping the metal cooler helps preserve the mechanical properties and surface integrity of titanium and brass."
Zip Titan and Chopcut Titan both boast a longer lifespan than other competing discs on the market.
"The efficient cutting action of the wheel prevents it from overheating, which is the number one killer for cut-off wheels," elaborates Brunet-Gagné. "You will also get more cuts per wheel, as well as faster and freer cuts, which helps increase job productivity and lower labor costs."
The Zip Titan is part of Walter's industry-leading Zip Wheel family of products, which through testing and real-world documented cost savings, constantly shows longer life and the most cuts per wheel in the industry. The Chopcut Titan belongs to the Chopcut family of products, and is designed specifically for performance cutting on portable chop saws.