Weego 66 Jump Starting Power Pack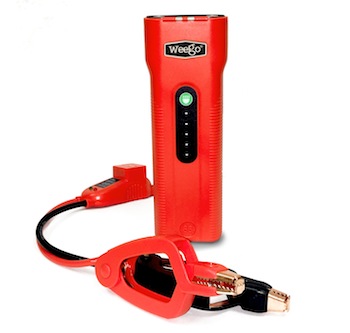 Weego announces its compact Weego 66 Jump Starting Power Pack has been upgraded with new features that secure its position as the safest, most reliable, rugged and powerful Jump Starting Power Pack for 12V battery systems on the market.
Weego 66 has increased its true cranking amps by 10%—to reach an incredible 660 amps—for an upgrade in compact versatility and power. Peak amps measure 2,500 amps. Its lightweight design, at only 2.5 lbs. delivers the high-powered, jump starting charge needed to get trucks, tractors, cars, boats and light-duty equipment moving again as quickly as possible.
Weego 66's patented, ergonomic Smarty Clamps come complete with extra-wide openings and new tapered tips also featured on other Weego high performance models. The Smarty Clamps' tips easily and firmly contact hard-to-reach terminals found in many commercial vehicle battery compartments. Weego 66's new AutoBoost™ technology ensures dead batteries as low as ½ volt can be safely jumped without any safety-compromising, override button that is built into other models.
For increased versatility, the four-in-one Weego 66 is also capable of bringing phones, tablets, laptops or other mobile devices back to life via 5V USB and 19V outputs; powers 12V portable accessories; and provides ultra-bright lighting functionality with a 600-lumen dual LED flashlight complete with emergency strobe and SOS functions.
"Our goal is to continually upgrade our Jump Starting Power Packs as we develop innovative solutions for our customers," said Gerry Toscani, CEO, Weego. "Weego 66 delivers all of the convenience with an added boost of power and even more easy-to-use functionality. Features like tapered tips on the Smarty Clamps and AutoBoost make Weego the safest, smartest and most reliable portable power choice for hardworking professionals."
Weego 66 provides up to 2-years standby time and a broad operating range of -4 to 140 degrees Fahrenheit to ensure it will deliver the strongest power in any conditions, whether land or sea. Rugged construction with high-quality components, Weego 66 is safe to transport, handle and use; anti-spark, reverse polarity, overheat, and power surge protections are built in.
Guaranteed to perform as promised, Weego 66 cranking amp readings are verified; engine compatibilities are tried and true; and lumen specifications are accurate. With no governing agency to verify portable-power product specifications, trust in a brand is critical to ensure safety, and Weego is the brand that users can trust.
The rugged Weego 66 is IP65 rated for water, dust and dirt resistance, independently lab tested and backed by Weego's Crazy Long 18-month Warranty. For more information on Weego 66 visit www.myweego.com.