Wilton 4-1/2 and 5-1/2 Inch Tradesman XC Vises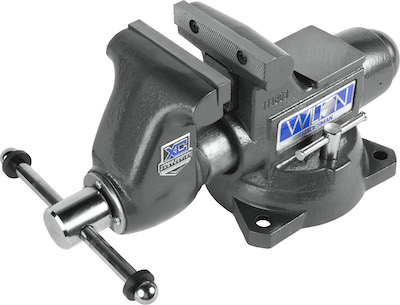 Wilton has expanded the Tradesman XC Vise to include two new models with jaw widths of 4-1/2 and 5-1/2 inches. The smaller size vises are a result of customer demand to meet the needs of smaller spaces on work trucks. The Tradesman XC vises are designed to handle the elements with the ability to work in the most extreme environments.
The Tradesman XC is not your ordinary vise. Nicknamed the "bullet" vise due to its cylinder shape design, its sealed construction features a precision slide bar, rugged jaw and pipe inserts and a large, heavy-duty machined anvil. Key components are drenched with an electroless nickel coating to prolong life in corrosive environments.
In fact, in an independent intensive sea spray corrosive environment test, the Tradesman XC vise went head-to-head with non-coated vises. The 120 hour test bore witness to the impact on the vise's key working parts including the slide bar, jaw inserts and the handle. Test results showed that the Wilton Tradesman XC Vise lasted up to five times longer before the onset of corrosion than comparable non-coated vises.
The Tradesman "bullet" vise as it came to be known anchors the workbenches in most industrial factories in the United States and is the number one industrial vise sold today.
The latest iteration of the Tradesman vise is the Tradesman XC Vise, which was designed for use on mobile utility and other work trucks. Workers facing weather extremes on a daily basis depend on their tools and equipment and demand performance even in the harshest conditions.
Typical uses for the Tradesman XC vises include utility and general work trucks, plus applications in aerospace and transportation, machinery, metalworking, mining and coal production, utilities, construction and the defense industry.
All Wilton Tradesman vises including the XC vises are known for their impenetrable fully enclosed design. This feature extends the life of the vise by protecting internal components from dust, dirt and other debris. These vises are factory lubricated and permanently sealed with lifetime lubrication for trouble-free service and operation.
Tradesman XC vises feature a virtually indestructible 60,000 PSI ductile iron body, movable jaw and base with a precision slide bar calibrated to .003." This tolerance eliminates movement in the front jaw regardless of opened distance. A longer spindle nut is used in the vise. In fact, it's 3x longer and 2x thicker than the spindles used on traditional vises. This ensures a lifetime of smooth spindle movement and straight line pull.
The Tradesman XC vises also employ a large anvil that's twice the size of average anvils. It's designed to take blow after blow while forming and shaping materials.
The Tradesman XC vises have 360º swivel bases with a four bolt mounting system to ensure a solid foundation. Other standard features include main jaws, pipe jaws and a machined anvil work surface. The Tradesman XC vises are covered by Wilton's Lifetime Warranty.
The Wilton Tradesman XC vises (4-1/2", model 1745XC, $669.99 MSRP), (5-1/2", model 1755XC, $819.99 MSRP) (6-1/2", model 1765XC, $949.99, MSRP) and (8", model 1780XC, $1,419.99, MSRP) are available through industrial distributors and several online retailers. For more information visit wiltontools.com or contact Wilton Consumer Relations at 800-274-6848.