Toro e-Dingo 500 Compact Electric Utility Loader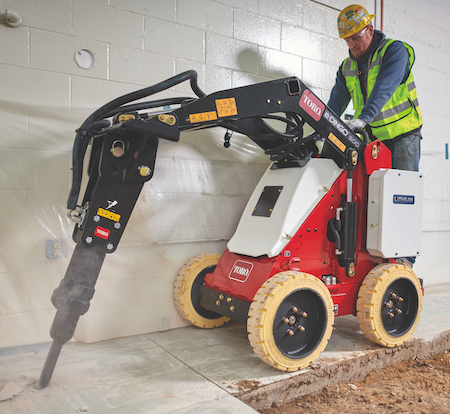 Toro has made a major step into the electric-powered equipment marketplace with the introduction of the new Toro e-Dingo 500 compact utility loader. The e-Dingo allows end users to realize all the benefits and power of a standard compact utility loader with no fuel costs and zero exhaust emissions.
Ideal for indoor construction jobs that require fast completion times and reduced overall costs, the new e-Dingo will be available in Spring 2020 through Toro's extensive network of trusted dealers and rental partners.
Greater efficiency and reliable performance set the e-Dingo apart. It's powered by lithium-ion battery technology designed for tasks that require heavy or continuous operation for indoor applications. The maximum operating capacity of 515 pounds reduces labor and hauling time.
Versatility is also a hallmark of the new e-Dingo thanks to Toro's 4-Paw independent 4-wheel drive system and true spin-turn performance.
Plus, several existing Dingo attachments are compatible with the new e-Dingo models, including:
Standard Bucket
Narrow Bucket
Light Materials Bucket
Adjustable Forks
Multi-Purpose Tool
Hydraulic Breaker
Grapple
Leveler
Utility Blade
Auger
"We are truly excited to introduce the new e-Dingo, a compact utility loader that provides an unprecedented combination of power, versatility and durability with zero exhaust emissions, designed for indoor construction," said Jay Thaker, marketing manager at Toro. "These reliable machines are game-changers for indoor contractors in the compact utility loader category to help reduce overall costs and speed up completion. With the ability to use common attachments that work with all Dingo models, operators will be able to handle a wide variety of tasks with greater efficiency."
The e-Dingo allows operators to utilize several power modes to conserve energy. The Auto Idle feature automatically conserves energy by powering off the motor after it's been idle for a certain amount of time. The machine also shifts to low idle after 5 seconds of non-use and shuts off when not in use for over 30 seconds. The operator can then instantly restart the machine by simply double-tapping the traction control lever.
To learn more about Toro's compact utility loaders, please visit Toro's website
.