Ericson Protector Series GFCI products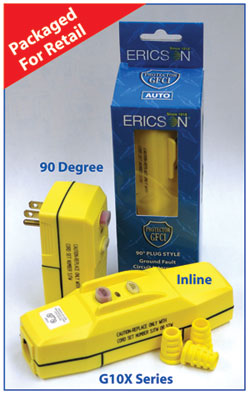 The Protector Series is the latest in GFCI protection technology with under 25mS trip release and reduced nuisance tripping with NOISEGARD technology.
The seal around the removable covers keep out rain and dirt on the jobsite.
Power on indicator shows protected power is ready for your use.
Available in single and tri-tap in-line and 90 degree plug style.
Inline and 90 Degree plug style
Easy cord attachment by end user
16/3, 14/3, 12/3 SJ Cord attachement
NEMA 3R Rain Rated
UL Listed and CSA Certified
120V Operation - 15 and 20 amp
Grommets included
Retail Packaged
Safety Yellow
Color Coded Screw Terminals