Ericson Sun Tower light system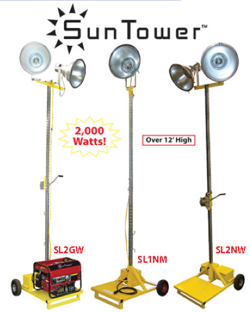 Light and power in one easy to use assembly - The SunTower Light System produces onsite wide area lighting with large stadium style 1,000-Watt MH lamps and power distribution with a 20Amp GFCI Duplex receptacle.
With fully adjustable light heads and safety locking pins on the tower, the SunTower is the answer to safe onsite lighting and power needs. All weather Nema 3R Rainproof construction and design ensures safe power and lighting in all conditions. Single power cord supplies all outlets and light ballasts. Each light is powered by independent ballasts. Winch operation on the Dual SunTower is smooth and easy to operate.
Sun Tower is available with these basic features:
Heavy Duty Tubular Mast
Heavy Duty Friction Style Winch
3 KW Generator Set (Select Models)
Key Start or Pull
Gas or Diesel
Individual Metal Halide Ballasts
Heavy Duty Welded Base
Fully Adjustable Directional Lighting
120 VAC 60Hz 2000 W
Ballasts located in all weather ventilated enclosures
Twin 1000 watt Metal Halide
All Weather Construction
Cable storage platform
Large Rough Terrain Foam Filled Tires
GFCI 5-20 Receptacle Installed