Grabber Barracuda deck screw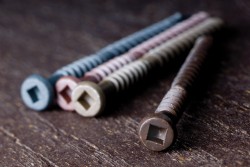 Smoother deck, smoother process with new Barracuda coated composite deck screws.
Grabber Construction Products' new Barracuda coated composite deck screw delivers not only increased performance for the builder, but a smoother finish and durability deck owners will appreciate.
Barracuda screws with the innovative GrabberGard coating have a precise, consistent mill thickness for easier driving into dense composite materials and an additional element of exterior grade protection.
Traditional decking screws force the composite material they displace deeper into the already-dense lumber, causing it to split as well as mushroom around the screw head. However, Barracuda uses a patented reverse-thread design that pulls displaced material out. It drives and seats better than other screws to leave a flat, smooth surface—even without pre-drilling and countersinking. The result is a more attractive, flat finish that's free from splits and actually takes less construction time.
Superior corrosion protection while environmentally friendly
Aesthetics aside, Barracuda provides durability and deck protection for the long term. The GrabberGard coating is Kesternich tested, making it able to withstand the most corrosive environments (1000 hour salt spray/15 cycles). GrabberGard also makes Barracuda approved for use with ACQ treated lumber. Barracuda is ideal for green-friendly projects as it is ROHS compliant and chrome free with a low Volatile Organic Compound (VOC) level.
Barracuda is pressure-treated lumber approved and comes in four colors (gray, tan, red and brown) to match any deck. Barracuda composite deck screws may be purchased in 5-pound and bulk boxes.