Simpson Strong-Tie Quik Drive BGP300 Belt Collation Fastening Tool for Metal Roofing and Siding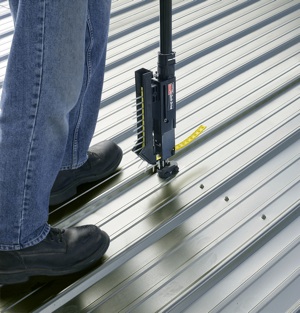 Simpson Strong-Tie introduces the Quik Drive BGP300 auto-feed screw driving system, an innovative solution for fastening metal roofing and siding with hex-head screws and washers.
Designed for agricultural post-frame buildings as well as new and replacement residential roofing projects, the Quik Drive BGP300 quickly and easily installs collated fasteners, which eliminates dropped loose (bulk) screws that can scratch or dimple panels.
The tool has multiple profile guides to match a variety of panel profiles. These guides allow installers to quickly position the fastener in the ideal location, including the center of the rib. The tool's locking depth control also ensures a proper fastener seal and prevents overdriving that can damage metal roofing and siding.
The Quik Drive BGP300 is the first tool by Simpson Strong-Tie to feature belt collation. Unlike other belt-collated auto-feed systems that often skip screws, the feeder on the BGP300 senses when a screw is present and will not advance the belt until that screw is driven. The collated fastener belts also can be loaded in either direction for easier operation. Installers can choose from a full range of galvanized or stainless-steel screws as well as color-matched, powder-coated screws to coordinate with metal roofing and siding.