Hand Tools
SOG PowerLock MultiTool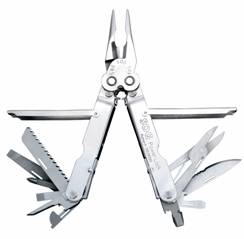 Sleek, attractive, and easy to operate, the S60-N PowerLock Multi-Tool showcases SOG's sophisticated style and quality construction. This versatile multi-tool features several heavy-duty components, including a hard wire cutter, a double-toothed wood saw, a 1/4-inch foldable drive, and much more.
Driven by an exclusive interlocking gear system, SOG's patented Compound Leverage technology is a legend in folding tools. With the proprietary technology's increased leverage, SOG pliers generate twice the power of their conventional counterparts, minimizing the amount of hand pressure that is required to get the most torque out of the tool.
And using SOG's PowerLock technology, the S60-N features removable, pivoting handle covers that improve hand comfort and allow for additional pressure on tough jobs.
Milwaukee 8-piece screwdriver set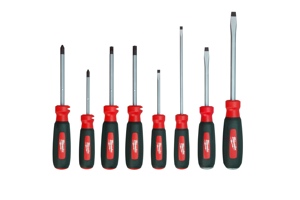 Milwaukee Electric Tool Corporation introduces the 8 Piece Screwdriver Set as part of its new line of hand tools. Similar to the 11 in 1 Screwdriver that launched in April 2010, the new set features patented ECX bits to perfectly fit the hybrid specialty screws users often encounter in electrical boxes, conduit couplers, outlets, and other common job site fixtures.
"Every feature in this set is a direct result of discovering common issues and complaints on the jobsite and delivering innovative solutions," says Tim Albrecht, Group Product Manager- Hand Tools for Milwaukee Electric Tool Corporation. "For example, we added a steel top to the slotted drivers in this set for additional durability and protection because we found that this tool often suffers the most jobsite abuse."
In addition, each screwdriver shaft is made of shock resistant steel for added durability and the bit type is clearly marked on the top of each handle for quick identification while in a tool belt. For further utility, an integrated wire stripper and wire bending hole allow the user to strip and/or bend up to 12 gauge wire before fastening to electrical boxes.
The addition of the new 8 Piece Screwdriver Set follows the April 2010 launch of Milwaukee's Hand Tool category. Dedicated to delivering advanced solutions to increase productivity, this category will continue to grow and offer innovative products. Backed by a limited lifetime warranty, the new tools confirm Milwaukee's commitment to best-in-class durability.
Wright Tool Strike-Free Wrenches

Wright Tool introduces new strike-free wrenches that are used on heavy-duty applications where striking-face box wrenches cannot be used and where cheater bars should not be used. They are specifically designed for use where false blows are not permitted. They also loosen and tighten large fasteners in confined areas where there is not enough room to swing a striking tool.
The U.S.-made line of strike-free wrenches is available in two- and three-foot handle sizes, with 12-point wrench openings ranging in 17 sizes from 1 inch to 2 inches in diameter. Wright Tool's strike-free wrenches are professional-grade and are manufactured for high strength, durability and reliability.
"The addition of these strike-free wrenches to our extensive line of wrenches allows Wright Tool to be a single source of tools needed for a variety of industries including the petrochemical, utility, heavy-duty construction and industrial maintenance industries," said Ty Smith, director of business development at Wright Tool.
KNIPEX Lineman's Pliers with Crimper and Fish Tape Puller

For superior cutting and powerful gripping when working in harsh conditions, the new 9 ¼" Lineman's Pliers from KNIPEX is a tool you can count on. Not only can the Lineman's Pliers cut hard and soft wire, ACSR, bolts, screws, and nails, but it also features a built-in crimper for insulated and non-insulated terminals and connectors as well as a fish tape puller that will grip any flat steel fish tape.
KNIPEX's 9 ¼" Lineman's Pliers feature a high-leverage construction that requires 40% less effort than conventional Lineman's pliers due to the tool's high transmission ratio. A cross-hatch gripping zone in the jaws enables strong gripping and pulling and the additional gripping zone below the joint increases the tool user's leverage.
Alan Sipe, President and General Manager of KNIPEX Tools LP, highlights the tool's many capabilities: "The KNIPEX Lineman's Pliers is the go-to-tool for commercial, residential, and industrial wire cutting professionals. It cuts almost anything you can get between the jaws, crimps connectors and pulls fish tapes too. This is one tough German tool!"
The 9 ¼" Lineman's Pliers with Crimper and Fish Tape Puller are available with Non-Slip Grip (part number 09 11 240) or Dual Component, Comfort Grip handles (part number 09 12 240). Each handle style has an ergonomically optimized shape for a firm grip and fatigue-reducing operation.
Irwin Vise-Grip GrooveLock pliers add jaw designs
New Straight and Smooth jaw designs added to best-in-class V-Jaws.

Because having the right tool for the job is every tradesman's demand, IRWIN Tools is introducing two new jaw configurations to its line of best-in-class IRWIN VISE-GRIP GrooveLock Pliers. The new jaw designs—perfect for plumbers, electricians, auto mechanics, and maintenance and repair professionals—include Smooth Jaws and Straight Jaws that feature GrooveLock's patented press-and-slide-button technology.
This "magic button" feature, first introduced on GrooveLock's V-Jaws, adjusts the lower jaw two times faster than any other adjustable tongue-and-groove pliers, providing unmatched speed and precision-adjustability on the job.
Tradesmen just press the button, slide the jaw to the desired position, and release for an absolutely precise tool-to-work-piece fit. "There's no more trial-and-error to find the right position of the tool's jaws," said Curt Weber, Director of Marketing for IRWIN Tools. "For added convenience, tradesmen can simply ratchet the jaws tightly to the work-piece by pushing the GrooveLock's handle up from the open position. It's a faster, easier, stronger technology solution for today's workplace demands," Weber emphasized. "One set of VISE-GRIP GrooveLock pliers can effectively replace several other tools."

Additional State-of-the-Art Features Provide Power, Ease-of-use and Comfort
On Every Pair of IRWIN VISE-GRIP GrooveLock Pliers:
Right angle teeth grip in all directions for maximum bite.
Anti-Pinch ProTouch™ Grips provide extra comfort, reduce hand fatigue, and prevent workers from pinching palms and fingers.
Multi-Groove Ratcheting System yields twice the groove positions of traditional groove-joint pliers for precision, adjustability and stronger gripping.
The GrooveLock all-purpose jaws adjust to grip flat, round, hex and square surfaces, making this tool ideal for any number of plumbing, electrical and automotive applications.
The IRWIN VISE-GRIP GrooveLock line of pliers includes lengths from 6-inch, 8-inch, 10-inch, 12-inch, up to 20-inches. Jaw capacity sizes range from 1-1/8" to 6".
The suggested retail price of the 6", 8", 10" and 12" GrooveLock pliers ranges from $10.99 to $19.99. The suggested retail price for the 16" GrooveLock is $34.99 and the 20" is $44.99.
Kraft Tool Stainless Steel Putty & Drywall Knives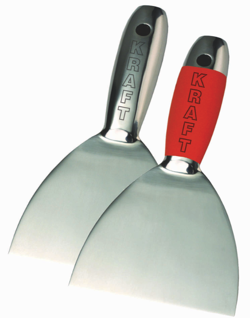 Kraft Tool offers a full line of stainless steel flexibly putty and drywall knives designed for the professional.
The feature non-rust stainless steel blade-and-handle one-piece construction for strength and longevity.
These tools come in 5 sizes and are ideal for scraping, painting and drywall applications.
The contoured handle is comfortable and easy to grip also available with a soft grip, which is a finisher's favorite.
Kraft Tool manufactures a full line of tools for paint, plaster and drywall professionals. For more information call 800-422-2448 / 913-422-4848.
M-Power MERC Chisels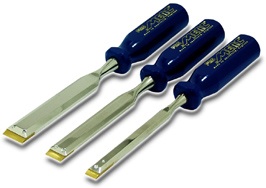 Unless they are meticulous in every aspect of their profession, the chisels in the average carpenter, electrician or even plumber's tol bag is somewhere between a paint can opener and a screwdriver. Almost none will have an edge to speak of. The reason is most users don't carry a way of sharpening with them. (oil stone or diamond stone, sharpening jig, lubricant and something to rest it all on).. Let alone spending the time to set it up and use it.
So their chisels are blunt. Some are so busy that when the original edge of the chisel is lost, they simply buy another. Others hold an inverted belt sander between their knees and wipe the chisel back and forth across the speeding belt. You can usually spot these guys as they don't normally have all their fingers.
MERC Pro is the first chisel to have quick change replaceable pre-sharpened cutting tips. Average change time is less than 1min. And each cutter comes with "no loose" retained fixings. So 15 minutes spent searching on the floor for missing screws.
MERC's cutter tip's are tolerance ground in High Speed Steel and plated in Titanium. Giving an edge that lasts up to 5 x longer than a regular chisel.
The cutter profile of MERC chisels are not limited by the same machining processes. So different "Task specific" cutter profiles have been designed to give a better finish, more quickly and tailored to the specific needs at hand.
Great care has been taken to design, develop and test every single component exhaustively. The chisel body alone undergoes 9 major processes and that's before it's individually checked, assembled and quality inspected by hand. Each chisel is issued with a signed Certificate of Authenticity which carries a unique reference number that pertains to its individual production.
MERC technology might be the ground breaking improvement that some have been waiting a long time for. M.E.R.C (M.Power. Edge. Ready. Chisel)
General Tools E-Z Pro mortise & tenon jig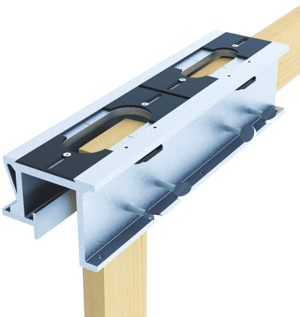 Known among woodworkers as the "King of Joints," the mortise and tenon joint is still extensively used even after 4,000 years. History offers examples of this joint in ancient Egyptian, European and Chinese construction. But until now, no one has figured out a way to provide a quick and easy, all-in-one solution to cut both a matching mortise and tenon with a single inexpensive jig suitable for both the professional and the DIYer.
General Tools & Instruments (General) is proud to announce the release of the E∙Z Pro Mortise & Tenon Jig (Model 870; Patent Pending). This new jig was designed in-house by General's product development team and will be available December 1, 2010 with an anticipated MSRP of $99. In August, General debuted a prototype at the International Woodworking Fair in Atlanta to a tremendously positive reception. The Mortise & Tenon Jig is the latest entry in General's E∙Z Pro line of innovative, affordable and easy-to-use wood joining jigs. The line also includes a Dovetail Jig, a Pocket Hole Jig, a Doweling Jig and a jig to straighten crooked boards (Jointer Clamp).
The E∙Z Pro Mortise & Tenon Jig comes completely assembled and ready to use right out-of-the-box. Included is a quick-change guide-sleeve assembly and 1/4" up-cut spiral carbide bit to produce the widely used 1/4" mortise and tenon joint, as well as guide-sleeve assemblies for 3/8" and 1/2" joints. Using a plunge router with the jig, woodworkers can quickly and easily cut a fully aligned matching mortise and tenon of 1/4", 3/8" or 1/2" thick and from 1" to 3" wide. The unit can easily handle stock ranging from 1/2" to 1½" thick and can cut multiple mortises in a single long piece. The unit can be mounted directly on a workbench or onto a board that can be clamped in a vise or to a bench.
The complete E∙Z Pro Mortise & Tenon Jig includes the following: the ruggedly constructed, solid T6 Aircraft grade, hardened aluminum jig featuring a convenient thumb-screw arrangement for mounting your work, sliding templates to adjust the length of the joint and a novel "swing-arm" feature for centering and aligning your cuts; a quick-change guide-sleeve assembly with 1/4", 3/8" and 1/2" guide-sleeves; a wrench for the guide sleeve; a centering pin and a 1/4" up- cut spiral carbide bit.
To learn more about General Tools & Instruments and its wood joining products, visit www.generaltools.com/joiningtools, or call Customer Support at 1-800-697-8665.
Ames True Temper Introduces 19 New Hammers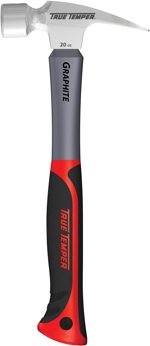 Ames True Temper announces the launch of a new line of 19 different True Temper Hammers. All of the tools include unique features to meet the needs of numerous applications, including general carpentry, heavy carpentry, framing, ripping, driving nails and installing materials such as drywall.
"Ames True Temper is a leading supplier of heavy-duty striking tools, so the development of a line of hammers is a natural progression for our product portfolio," said Darlene SantaCroce, Marketing Manager. "At Ames True Temper we are dedicated to providing a full set of solutions to our customers from the professional to the newly deemed DIYer. Our new line of hammers was developed with this purpose in mind."
The new line of hammers includes all-steel hammers, graphite handles and genuine hickory wood handles. All items in the line are forged and meet or exceed the American Society of Mechanical Engineers (ASME) specifications.
All-Steel Hammers
The hammers in this line are made of solid steel and are virtually indestructible. These claw, rip, and framing hammers, have been designed with heavy-duty jobs and professionals in mind, and include added features such as True Temper's patented anti-vibration technology to absorb shock and increase user comfort. These same features are found in the all-steel specialty line, which includes bricklayer's, drywall, and drilling hammers.
Additional features, such as the magnetic nail starter and oversized comfort handle, are engineered to also increase user comfort and safety. For example, the magnetic nail starter reduces the chance of injury on the jobsite and the oversized comfort handle has a non-slip ergonomic design for user comfort. The new hammers will also increase jobsite productivity, with an oversized striking face for improved accuracy in hitting the mark.
Graphite Handle Hammers
The graphite handle hammers offer more strength and durability, while also helping to reduce vibration. Features including the magnetic nail starter, oversized comfort handle and oversized striking face are all available on the claw, rip, framing and California framing hammer styles. There are five options for users to choose from among the graphite handle hammers.
Hickory Handle Hammers
True Temper's new hammer line also includes hammers featuring authentic U.S. hickory handles – which are 100 percent certified by the Forest Stewardship Council (FSC), an international, independent, non-governmental, not-for-profit organization established to promote the responsible management of the world's forests. The continuous fibers of these handles absorb shock and are extremely strong for the toughest of jobs.
The hickory handles are featured on hammer styles, including claw, rip, and California framing hammers, and also on a specialty line, including the tack, ball pein and bricklayers hammers.
KT Pro sockets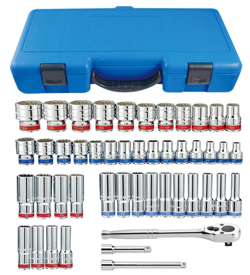 KT Pro Tools announces three new socket sets.
The 1/4-, 3/8- and 1/2-inch drive tool sets offer both SAE & Metric sizes covering standard and deep sockets to meet all applications.
The 3/8- and 1/2-inch sets feature our patented "GripStrip" technology.
The A4005CR 12-point 1/2-inch drive set (shown) has 47 pieces in both SAE and metric sizes.
To launch these new sets. KT is offering spectacular savings.
Bostitch two-in-one reversible nail set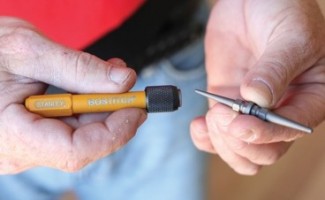 Bostitch engineers have updated the venerable nail set with a new reversible model. This unique design features a double-ended insert that provides a 1/32˝ nail set on one end and a 2/32˝ nail set on the other. To alternate between sizes, users can simply remove the insert, flip it around and re-insert the tip into the sleeve. Its knurled locking collar secures the nail set into place while providing a fast and easy changeover.
Additionally, the Bostitch reversible nail set features an all-metal striking tip for the solid transfer of striking power and durability. The striking end of the hexagonal sleeve accepts conventional bit tips and can be chucked into a drill for a versatile solution when the user needs a few extra inches of reach.
The new Bostitch nail set includes the basic tool sleeve and double-ended insert. It retails for approximately $9.99.
Bostitch spring steel demo bars

Bostitch introduces a new line of spring steel demolition bars.
Available in two lengths (24 and 36 inches), Bostitch spring steel demolition bars feature precision-ground edges on the crown and toe for improved penetration compared to previous Stanley pry bars. This is critical when prying under materials to separate one object from another. Engineers also widened the edges by 25% on both ends of the bar for improved leverage over previous Stanley models. Additionally, the bars' flat striking surface allows the user to more effectively push or pierce materials such as sheathing, plaster, and sub-flooring.
"By using heat-treated spring steel, our engineers have achieved a 30% lighter design than previous Stanley demolition bars, which is a dramatic difference for professionals who swing heavy pry bars for a living...this could equate to several hundred pounds of lighter lifting every day," explains Strategic Business Unit Leader Chris Woolley. The reduction in weight, combined with several other key features, is sure to make work more productive for contractors, remodelers, and demolition crews alike."
Bostitch spring steel demolition bars offer a 100-year limited warranty. The 24-inch version (model 55-501) sells for approximately $24.99; the 36-inch version (55-502) sells for approximately $29.99.
Portasol GT220 professional butane torch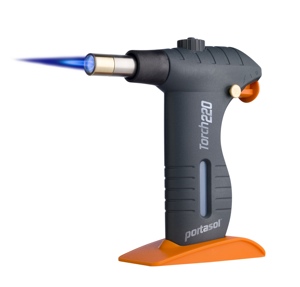 Portasol's GT220 Professional Butane Torch for professional users is portable and easy to use. There are no cords or wires – it's completely powered by butane. Just one tank-full of butane will run this torch for up to 60 minutes at mid-setting. It is a medium-power butane torch that provides a flame temperature up to 2,462 degrees F and an adjustable flame length up to 90mm (2-1/2 inches).
The flame is wind-resistant so the torch can be used inside or out-of-doors. It's ready to melt solder in less than 30 seconds from the time you turn it on. The ultrasonically welded gas tank provides a safer, more reliable butane torch than you'll find elsewhere. The all-in-one on/off/ignition switch makes it fast and easy to use.
The GT220 is a great tool for soldering joints and brazing components. It can also be used to heat-shrink tubing, strip paint, heat or bend thin metal, and loosen frozen or rusted nuts and bolts. Use wherever you need a medium power flame for a short period.
"The GT220 Torch is versatile and quite handy for the professional or DIYer. It's portable, safe, easy-to-use and provides a lifetime of use," says Sandy Allen, Portasol National Sales Manager.
It is certified ESD-safe and is anti-static. Every Portasol product is made with butane compatible plastics to prevent leakage. When the manufacturing process is complete, each Portasol tool is tested for a full two weeks before they are packaged and sold to the U.S. market.
Portasol is a registered trademark of Oglesby and Butler Limited. Portasol products are manufactured in Ireland and distributed throughout the U.S. from our distribution center in Chicago, IL. For more information, please see our website at www.portasol.com or contact Sandy Allen, National Sales Manager, at 541-953-0679.
Milwaukee Compact Hack Saw

Milwaukee Electric Tool Corporation introduces the Compact Hack Saw as part of its new line of hand tools. The ideal size for cutting in tight spaces or making flush cuts, the new tool features an exclusive tool free blade change that permits users to change blades up to 10 times faster.
"Traditional Compact Hack Saws may get the job done, but are uncomfortable to hold and require additional tools to change the blade," says Tim Albrecht, Group Product Manager- Hand Tools for Milwaukee Electric Tool Corporation. "The new Milwaukee Compact Hack Saw delivers significant innovation in this product category by offering an ergonomic handle with a rubber over mold grip and a time-saving tool free blade change."
The addition of the new Compact Hack Saw follows the April 2010 launch of Milwaukee's Hand Tool category. Dedicated to delivering advanced solutions to increase productivity, this category will continue to grow and offer innovative products.
Backed by a limited lifetime warranty, the new tools confirm Milwaukee's commitment to best-in-class durability.
WrightGrip SB ratchet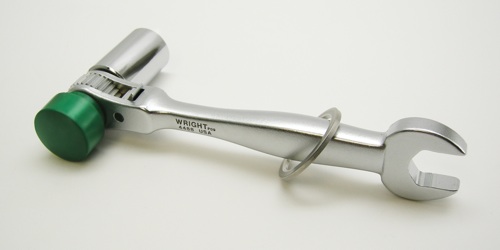 Wright Tool introduces the WrightGrip SB ratchet (#4488) for safer installation of scaffolding. Manufactured in the U.S., the 10 1/2-inch WrightGrip SB ratchet is an all-inclusive tool that features a 1/2-inch drive, 7/8-inch open-head ratchet, a replaceable hammer on the other side of the ratchet available with inserts in brass or steel, and a 7/8-inch open-end wrench on the end of the handle.
The open-head ratchet allows for easier cleaning and quick directional switch letting the tool fit in narrower spaces making clearance easy. The ratchet is interchangeable with a 2-inch deep socket for final tightening on smaller scaffold diameters.
The WrightGrip technology is featured on the open-end wrench. WrightGrip is an innovative, high-strength, anti-slip design for open-end style wrenches. The advanced opening profile places more metal in high-stress areas to stiffen the jaws, increase tool strength and reduce permanent jaw spread for better reliability. The carefully placed, precision-broached serrations keep the wrench seated on the fastener to increase torque and reduce slippage.
For extra security, the WrightGrip SB ratchet has a lanyard ring that allows the tool to be tied off to the scaffold builder. The lanyard ring offers versatility by enabling the ring to slide up and down the handle to keep the lanyard out of the way while the user works with either end of the tool.
"The WrightGrip SB ratchet was created with the industry's top scaffold contractors in mind. We did field work to understand the issues and problems scaffold builders face while doing their jobs. We set out to design a tool that would perfect the performance of today's scaffold builders," said Ty Smith, director of business development at Wright Tool. "With the new WrightGrip SB ratchet, there is no need to carry a separate adjustable, open-end or combination wrench, eliminating overall weight and tool spider congestion, which makes the builder safer."
Wright Tool manufactures a complete line of more than 4,000 professional-grade hand tools for the industrial, contractor, and MRO markets. All Wright-manufactured products carry lifetime guarantees against defects in workmanship. The company is committed to perfecting performance.
Wright Tool is located at One Wright Drive, P.O. Box 512, Barberton, OH 44203. Phone: 800-321-2902. Fax: 800-543-2095. E-mail: sales@wrighttool.com.
Ranch Hand Tools ranch hammer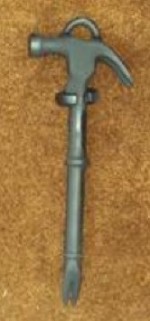 One of the more novel tools seen at the 2010 National Hardware Show was this unique Ranch hammer, created by rancher and Ranch Hand Tools owner Jerry Simmons.
His company offers three versions of the tool:
The 3.41-pound Ranch Hand with pry bar for a helpful source of leverage.
The 1.72-pound Carpenter's Hammer made of 100% steel with a non-slip handle
The 1.72-pound Household hammer with a light-weight fiber glass handle.
Each tool's unique design feature is the patented leverage loop on the head of the hammer. It gives you the leverage of a 2x4 "shim" built right into the tool.

The Ranch Hand was originally designed for ranching and fencing. This unique, hammer like tool has a removable ring on the hammer shaft that is used to tighten wire, cord, cable etc. The hammer handle terminates in a pry bar with a split crow's foot that easily pulls up nails and tightens wire. The pry bar is another helpful source of leverage.

The Carpenter's Hammer is made of 100% steel and has a comfortable non-slip handle. This is the perfect hammer for any carpentry project. The leverage loop gives you the leverage that a 2x4 does except it is easier to carry!

The Household Hammer has a fiber glass handle with a comfortable non-slip handle. The leverage loop pulls out nails and screws too.
Strong Hand Corner Magnet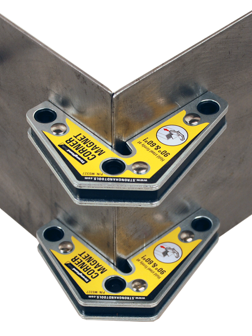 Holds at 90° from the outside of your substructure, for out-of-the-way clamping!
Strong Hand Tools, designer and manufacturer of Quick-Acting Welding Clamps, Magnets & Pliers and Welding Tables, has introduced the unique 90° Corner Magnet for holding workpieces from the outside, leaving unobstructed space inside your workpiece for welding. The unique, boomerang-shaped magnet is a 90° Magnet Square in reverse, with the 90° edges on the inside walls of the magnet. Create a precise 90° frame by placing multiple Corner Magnets around the outside of your structure.
At a height of just 3-1/2" inches, the Corner Magnet is compact enough to either use in the shop, or bring along with you for use in the field. It can easily be placed in a toolbox, or tucked into a pocket for use anywhere, anytime.
The Corner Magnet is especially useful in holding a flange in place for tack welding to pipes or tubes. The specially designed corner relief provides the necessary clearance for clamping around overlapping flanges, lips, or edges. The outside edge of the Corner Magnet provides a 60° clamping surface.
Strong Hand Tools is a world leader in the design and manufacture of a wide variety of innovative, time-saving clamping products for applications in metalworking, welding, MRO, metal fabrication and assembly. Strong Hand Tools can be purchased through a worldwide network of over 850 distributors. Visit www.stronghandtools.com for a searchable database of distributors.
PB Swiss Tools Modular Ratchet Tool Series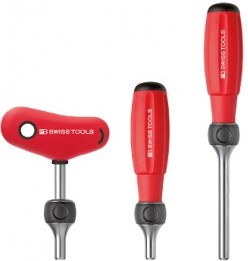 Count On Tools Inc., a leading provider of precision components and SMT spare parts, introduces PB Swiss Tools' new modular Ratchet Tool Series.
PB Swiss Tools' ratchets are the ideal tool for quickly tightening and loosening screws. The versatile ratchets can be used and switched one-handed. This product line is adaptable with the full range of PB 225 interchangeable blades, ¼" PrecisionBits C6, and ¼" sockets.
With the addition of a ratcheting module to the various ergonomic handles, customers can save a great deal of time and energy. PB Swiss Tools ratchets can be used in any situation, from DIY repair work to precision assembly operations. More than 40 different interchangeable blade and bit styles are available for the new line, making it an extremely valuable tool. Additionally, the ratchets provide the ability to safely fasten screws in difficult situations and inaccessible spots.
With the ergonomically shaped handle, the screwdriver lies exceptionally comfortably in the hand. The handle also has a Santoprene coating, which ensures the reliable transmission of torque with only a slight application of force, even with wet or oily hands. The Santoprene coating is resistant to many chemicals and resists color fading.
All PB Swiss Tools ratchets can be switched easily with one hand, which means work can be carried out even in the most difficult conditions. Thanks to the switch ratchet, a three-stage mechanism with small rotation angle (15°/24 teeth), screws can be twisted in and out comfortably.
With more than 130 years of experience, PB Swiss Tools is a global leader of hand tools manufactured for use in the industrial marketplace, even for the most hazardous jobs. All PB Swiss Tools are 100 percent Swiss-made and come with an unlimited lifetime guarantee.
The "Perfect Butt" Profile Scriber from M.POWER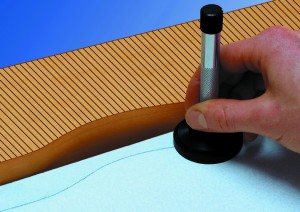 Originally designed for kitchen layout crews in the UK, the Perfect Butt Profile Scriber takes the guess work out of accurately profile scribing countertops, saving considerable time in the process.
The usual make-shift tool for parallel scribing was a pencil stuck at one end of a block of wood that was hand held parallel to the wall profile, leaving, if you were lucky and with the wind in the right direction, a drawn line to cut to that "sort of matched" the profile of the wall.
The Perfect Butt removes the element of luck and skill from this process.
The unique solution being that the scribing pencil is held at the axis point of a wheel, which guarantees a constant distance between profile and scribe point - cut to that line you'll find a Perfect Match between wall and work surface with no finessing required.
Much loved and rapidly becoming an "essential" tool in the Kitchen installer's toolbags, the Perfect Butt was then embraced by flooring pro's who suffered from the same problems as the kitchen guys — but at ground level. They find it ideal for fitting:
Laminate floors
Ceramic tiles
Cushioned flooring
Workshop-based woodworkers find it great for proportioning details during design layout, giving 5 different scaled-up off-sets as well as for offsetting the formers for bent-wood lamination.
The tool features:
5 different quick change wheels
Spring-loaded pencil to ensure constant contact pressure
Solid brass counter bored retaining shaft
With a Perfect Butt in your hand, the results of your work are very easy on the eye.
Snap Ring Pliers from KNIPEX

Available in Heavy Duty - And Extra Heavy Duty.
When working with snap rings or retaining rings, nothing compares to the versatility, functionality and durability offered by Snap Ring Pliers from KNIPEX. Available with two tip styles and a broad variety of tip diameters (.035" to .126"), KNIPEX's Snap Ring Pliers are designed to provide outstanding performance. Unlike conventional snap ring pliers which are manufactured through a stamping process, KNIPEX's
Snap Ring Pliers are forged from chrome vanadium electric steel, are designed to minimize tip breakage, and offer extended tool life.
KNIPEX's Super Heavy Duty Precision Series of Snap Ring Pliers (48 & 49 number series) are perfect for work with both internal and external retaining rings. Available with a straight or 90° angled head, the Precision Series is built to offer maximum performance. Inserted tips of highly condensed spring steel minimize breakage and provide 10 times the service life of conventional snap ring pliers. The Precision Series is also designed to minimize deformation when spreading snap rings.
Similar to the Precision Series, the Heavy Duty Forged Series (44 & 46 number series) offer exceptional strength with solid forged, non-slip tips that significantly outlast pliers with interchangeable tips. This series offers pliers to service both internal and external rings.
The tips on the Internal Snap Ring Pliers (44 series) are forged inward to prevent the retaining rings from slipping off and are used for installing and removing internal rings on the inside of a bore hole or housing.
The tips on the External Snap Ring Pliers (46 series) are forged outward and are used for installing rings on the outside of a shaft or groove. These series of pliers are available with straight, 45° & 90° angled heads.
Combination3D Square from M.POWER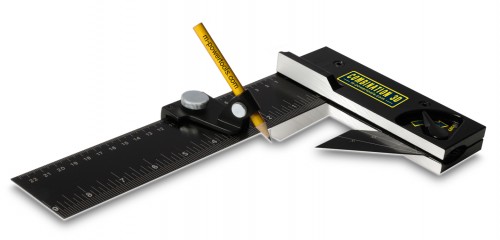 The clue's in the name – It indicates a perfect scribe line in 3D, both width and thickness simultaneously.
The C3D is a precision hybrid, a genuine alternative that covers the functions of: combination or try-square, saddle square, deep range marking gauge, bevel gauge and rule — all in one tool.
The C3D is individually built by hand in England and set to the tolerance of 1/100th of 1 degree over the entire 9"length of the blade.
And, unlike regular squares that are factory set for the life of the tool, the C3D's construction allows the square to be re-set. Or, if serious damage is done, the C3D can be fully stripped down and reassembled.
It has a Sheffield steel main blade with reset feature and a durable, cast aluminum powder-coated stock.
The C3D will be available June 1, 2010.
Arnott Tools' Miter Divider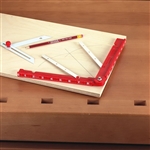 Get the perfect miter cut every time, without all the math or wasted materials.
The Miter Divider removes the frustration of guesswork and finding an accurate-fitting miter joint each and every time. Perfect for measuring and transferring any angle for walls, floors, crown molding, picture frames, decks, tiles and more.
Green Toad Pivoting Paint Brush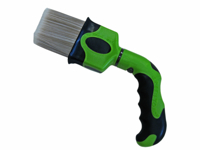 Ergonomic Design Ensures Comfort and Reduces Joint Stress; Unique Rotating Brush Head Pivots to Paint at Any Angle.
Anyone who has used a typical paintbrush or roller knows how painful and strenuous it can be on your hands, wrists and shoulders. For some, like those with limited manual dexterity or other physical challenges, painting with a traditional brush is virtually impossible.
Introducing the Green Toad—the first truly ergonomic pivoting paint brush system that makes it easy and comfortable for anyone to paint quickly and accurately. Designed by Margco International in consultation with physical therapists, the Green Toad system combines an exclusive, patent-pending comfort-grip handle with a 360-degree pivoting brush head that reduces the pain and discomfort associated with traditional paintbrushes.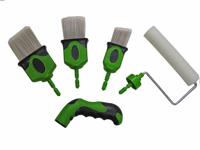 The 360-degree rotating brush head locks securely in eight different positions enabling the application of paint, stain or varnish from any angle. This not only reduces hand and wrist strain, but also improves accuracy in tight spots and challenging trim work. A quick release button on the ergonomic handle makes switching attachments a snap.
Users can change brush sizes or paint colors by simply snapping a new brush head into place. Rollers click into place and paint from eight different angles without twisting your wrist.
While ideal for do-it-yourselfers, the Green Toad is also a smart choice for professional painters for its comfort and ease of use, helping to reduce repetitive stress injuries and the associated time lost.
In addition to being comfortable and convenient, the Green Toad is also actually, well, green. All plastic parts, including the handle, brush heads, bristles and most internal parts, have been treated with Earthgreen polymers, which makes them biodegradable, compostable and recyclable.
The handle features a lifetime warranty. Available paint head attachments include 1.5- and 2.5-inch tapered brushes, 2- and 3-inch straight brushes, and 4-, 6- and 9-inch rollers. Roller extension poles, paint pad attachments and innovative, earth-friendly paint trays are currently under development.
Midwest Snips Blade Seamers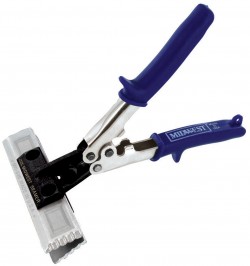 Midwest Snips' patent pending Interchangeable Blade Seamers for the HVAC/R and building/construction trades provide great value and convenience by eliminating the need to carry or purchase two separate hand seamers.
The MW-S36 seamer comes with 3- and 6-inch forged steel blades; the MW-S59 has 5- and 9-inch aluminum blades.
Interchangeable blades are quick and easy to switch out.
Stanley FatMax Xtreme Aviation Snips Boast Lifetime Warranty
Premium quality and durability at a competitive price.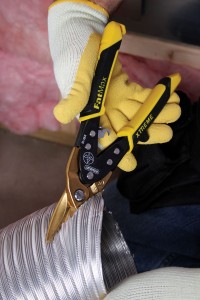 Stanley's three new aviation snips set a new standard for performance and durability. Ideal for cutting tin and other light gauge sheet metals, the new line of FatMax Xtreme aviation snips offer superior quality, innovative performance-driven features, and a lifetime warranty — all for the same price as competitive professional-grade brands.
FatMax Xtreme aviation snips offers three skus:
model 14-206 center cut snips
model 14-207 left cut snips
model 14-208 right cut snips
Their titanium-nitride coated blades stay sharper longer to deliver up to 20 times the cutting life of competitive models. This equates to 50,000 cycles per tool (when cutting 22 gauge stainless steel).
Constructed from a chrome molybdenum alloy, the serrated jaw blades offer a stable bite to help minimize slippage as well as the undesirable twisting effect that slows users down and makes unattractive cuts.
Patented flush hardware allows smooth access from the pouch and helps prevent the metal from catching on the protruding hardware during cuts. An internal locking mechanism with auto-release provides fast, one-handed operation.
For more information, call 1-800-STANLEY.
Stanley FatMax Xtreme Tape Rule Touts A 138% Larger Hook
For fast and easy one-time measurements.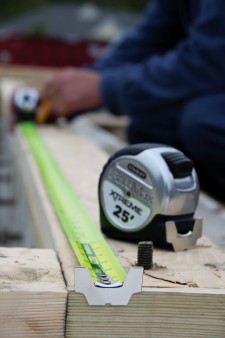 Stanley adds a new hook for contractors with its latest tape rule innovation – the oversized hook. The 25-foot FatMax Xtreme tape rule build on its industry-leading 13 feet of standout by adding a patented oversized hook that is 138 percent larger than traditional tape rules. It enables fast, hassle-free measurements and helps contractors grab materials from long distances. The new multi-catch hook can grip materials from the top, sides, and bottom to help contractors hook the tape onto irregular-shaped materials more easily without stopping and starting all over again. Precision raised edges provide enhanced gripping ability to ensure that one person can operate alone more effectively and productively.
Outward stabilizing wings prevent blade roll-over, which causes the blade to curl and fall amid longer length measurements. Users can rotate the blade for accurate overhead measurements without experiencing the dreaded snap and curl that forces them to start over again.
Another feature of the new FatMax Xtreme tape rule is its high-visibility Mylar coating, which is significantly more visible in low-light situations.
A high-impact ABS case and shock-proof slide lock provide increased durability and added user comfort. Thanks to a rubber outer shell, the slide lock can flex and retain its shape after impact while an air pocket underneath the slide provides a cushion effect to help preserve the life of the tape rule.
Its patented 1-1/4" tape is wrapped in Mylar polyester film. Moreover, its first six inches are coated with a patented Blade Armor coating for extended life (up to two times longer life compared to previous Stanley models) and reduced breakage on the most critical part of the blade. Blade Armor is the same thermoplastic coating used to protect the rotor blades on a SIKORSKY BLACK HAWK Helicopter under extreme conditions.
The new tape rule by Stanley still offers many of the same features that helped it to secure a permanent place in the professional's toolbox. For example, it touts an unparalleled 13 feet of standout (continuous blade extension without breaking or creasing).
FatMax Xtreme tape rules come in two models – a 25-foot imperial tape rule (model 33-890) as well as an 8m/26-foot metric tape rule (model 33-891). Both units are expected to sell for approximately $25. For more information, call 1-800-STANLEY.
TASK Tools Bamboo Hammers
TASK Tools' new FSC certified bamboo hammers use bamboo handles that are certified by the Forestry Stewardship Council to be 100 percent from well managed forests.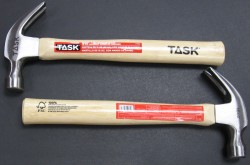 Bamboo is harder than oak and has a greater tensile strength than steel, making it an ideal material for hammer handles. Bamboo is also sustainable because of its ability to grow rapidly – up to 18 inches in a 24 hour period.
"TASK Tools is committed to supporting environmental sustainability, and that is why this new product line is so exciting", said Chris Waldner, Senior Product Manager for TASK Tools. "We can make better environmental decisions without compromising on product quality or features."
The Bamboo Hammers come in two sizes; 8 and 16 ounces, and have suggested retail prices of $7.99 and $9.99 respectively.
Founded in 1968, TASK Tools is a family owned and operated business that provides quality products, exceptional customer service, innovative merchandising solutions, and the industry's best warranty support to hardware and building supply retailers across North America. The company has two brands, TASK and Tuf-E-Nuf, which sell in five comprehensive product categories - power tool accessories, hand tools, abrasives, worksite accessories, and cargo security.
Channellock 412 V-jaw Plier Delivers Full-size Gripping Power

New 6.5" 412 V-Jaw plier is perfect size for smaller jobs.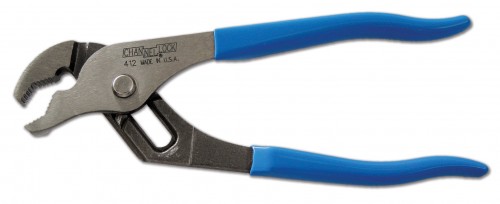 The new 6.5" 412 V-Jaw tongue and groove plier from Channellock, Inc., offers professionals and DIYers the same quality design and right-angle, maximum-bite grip as the other Channellock V-Jaw pliers – only in a more compact frame, making it easier to work with smaller piping and tubing.
"Product innovation and quality manufacturing are our top priorities," notes Ryan DeArment, vice president of sales and marketing at Channellock, Inc. "The development of the 6.5" V-Jaw plier was a direct response to feedback from trade professionals who said that a smaller plier would be helpful when working with smaller materials."
Key features:
V-Jaws give you more points of contact on round stock and tubing.
Right-angle teeth grip in all directions for maximum bite and