Larson Electronics Vapor Proof LED String Lights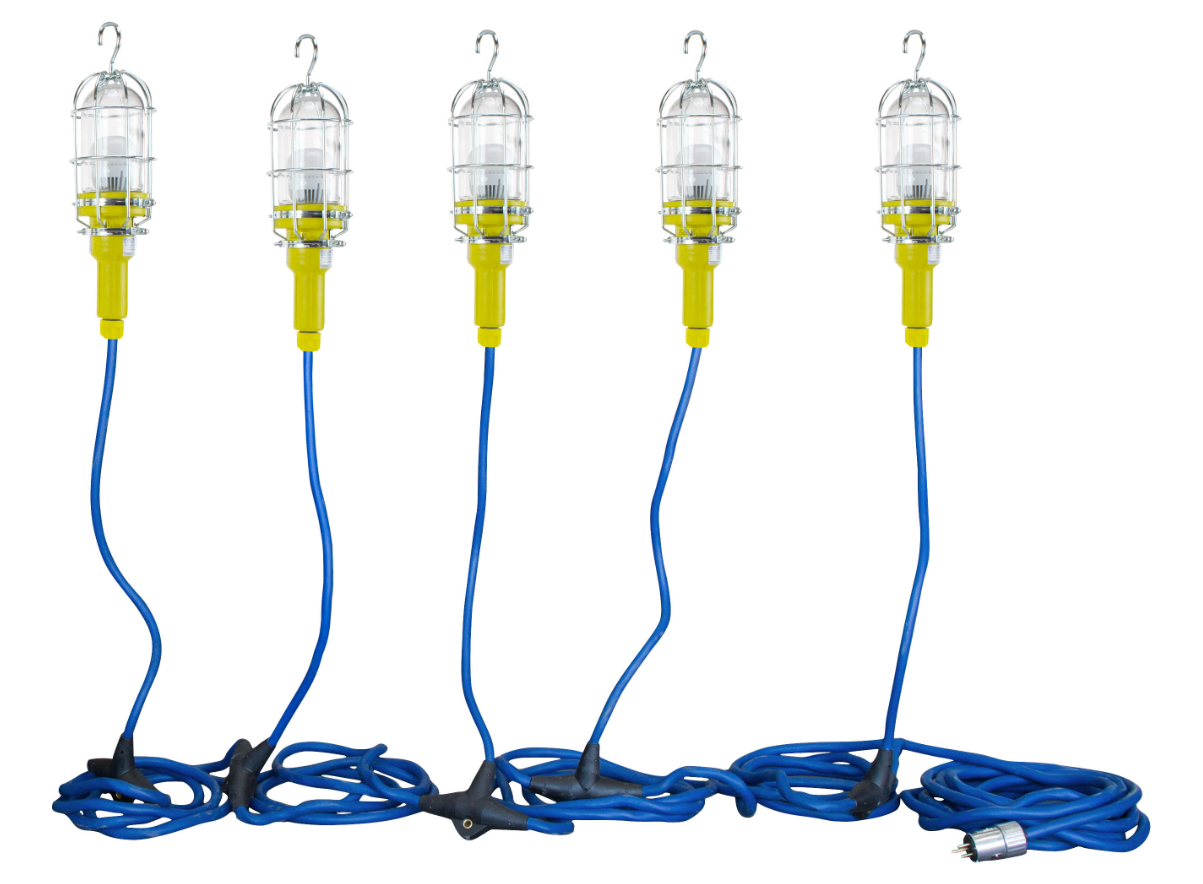 Larson Electronics continues its commitment to providing high grade lighting equipment to specialty markets with the release of an industrial string light set equipped with five LED drop lights.
The VPLSL-5-5FT-LED vapor proof string light set from Larson Electronics is water-proof, vapor-proof, and constructed to prevent the intrusion of water and moisture when used in wet locations. This string light set incorporates five hand lamps, each equipped with a 10 watt LED lamp producing 1,050 lumens of light.
Each LED lamp will illuminate an area approximately eight feet wide in all directions, producing 10-15 foot candles of light. The solid state LED lamp has no filament, making it resistant to damage from impacts and dropping. Each drop light features a rubberized insulated handle to provide a safe and secure grip. A stainless steel wire guard enclosure fitted with an aluminum hook provides protection for the glass dome.
Each vapor proof LED trouble light hangs from a three foot SOOW drop cord connected to a molded T-Junction, fastening the drops lights together with five feet of cord in between each unit. Larson equips this string light set with 25 feet of 12/3 chemical and abrasion resistant SOOW cord fitted with an industrial grade cord cap for easy connection to common wall outlets.
This drop light set operates on voltages ranging from 120 to 277 and are also offered in 12 or 24 volts for low voltage operation. These LED drop lights have improved qualities compared to the incandescent models with higher foot candle light output, cooler operation and better light quality.
"While incandescent hand lamps can generate enough heat to burn operators that bump the light, the LED hand lamps generally don't get above the ambient temperature of the area," said Rob Bresnahan, CEO of Larson Electronics. "The solid state electronics make the LED light vibration resistant and the 50,000 life hour rating enables operators to avoid re-lamping for more than 5 years."
Larson Electronics produces an extensive line of LED light towers, portable power distribution systems, explosion proof lights for hazardous locations, portable work lights and industrial grade LED area lights. View the company's entire line of lighting on the web at www.Larsonelectronics.com. Call 1-800-369-6671 to learn more or call 1-214-616-6180 for international inquiries.