Master Heavy-Duty Industrial Barrel Fans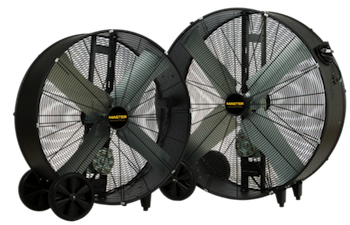 When you're in the market for power, Master has you covered. Master, a brand of Pinnacle Climate Technologies, has launched a new line of heavy-duty (HD) industrial barrel fans that feature innovative, redesigned blades and motors to deliver powerful airflow while utilizing a unique belt-drive design for the quietest operation.
Master has been building powerful fans since 1953, and now that power has reached an all new level. These HD industrial fans outshine traditional barrel fans to blow massive amounts of air and reduce your reliance on A/C—saving you money in the process.
Their heavy-duty steel construction includes thicker barrels and guards, giving you a fan that can take the abuse of any industrial setting and that will handle the toughest demands. They also include a fuse-protected accessory outlet for daisy chaining multiple fans, so you can cool even the largest of spaces. Whether it's a workshop, warehouse, garage, outdoor area, or other large space, you can count on these fans to get the job done.
As always, Master fans are loaded with features:
Matched belt-drive motors and blades for the highest achievable levels of airflow, rated up to 14,800+ CFM
High-efficiency, heavy-duty, two-speed motors for long life
Machined, built-in handle and heavy-duty solid wheels for convenient mobility
Heavy-gauge steel construction with OSHA-compliant safety guards and four oversized blades for maximum power and safety