NuMark Marker PT2000 Paint Markers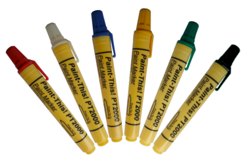 NuMark Marker Co. announces the re-release of their PT2000 paint marker line. The PT2000 series has been updated with a "Nu" and improved paint with better flow and higher hide quality. This new paint is designed to adhere to most surfaces and resist the effects of weather and the sun.
"Since 1982 NuMark Marker Co. has been manufacturing industrial quality markers for professional use. The PT2000 series offers contractors a high quality option at an affordable price. Distinct colors and broad spectrum adhesion makes this marker the best choice for typical surfaces that Contractors write on — whether it is concrete, metal, wood, glass, plastics or paper based materials" said Michael Jiantonio, president of the NuMark Marker Company.
"The PT2000 and our recently released XF5000 Xylene-Free permanent marker are our first new products in nearly 15 years. NuMark Marker Co. has been known mostly for our original valve action permanent marker, the PM2000. We are bringing new products to the market to meet the changing needs of our customers." he said.
NuMark Marker Co. is a family owned small business with old fashioned values. We take pride in the fact that we manufacture our markers in the U.S.A. For more information, visit www.NuMarkMarker.com