Occidental Leather's Dr. Wood, the ultimate tool organizer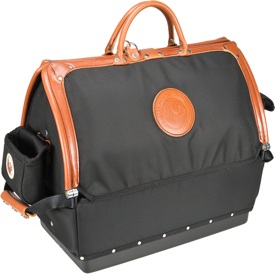 Occidental Leather, world famous for handcrafted tool bags and belts for the construction industry, introduces the ultimate in tool organization: Doctor Wood.
The Doctor weighs in at 15.5 pounds unloaded, with accommodations for each and every hand tool normally required by a professional tradesman. It has 85 pockets, including four medium and two extra-large zippered pockets for secure storage and organization of small items.
There are sleeve, ballistic nylon and leather pockets. Plus a bonus all-leather Pocket Caddy tool holder that may be removed to carry on a belt or tucked into a back pocket.
The hand-formed lids have rugged steel frames that hinge open to provide full access. Occidental's proprietary hinges with bronze bushings are so smooth and strong they could actually outlive the bag itself.
Dr. Wood is an evolutionary hybrid organization system; the bottom is constructed of high-density polyethylene, and the sides and main body are padded industrial nylon. American bridle leather is used for many of the tool holders, the buckle straps and, last but not least, the extremely comfortable hand made handles.