Veto Pro Pac

Introduces latest time-saving tool bag offering laptop and toolbag protection in one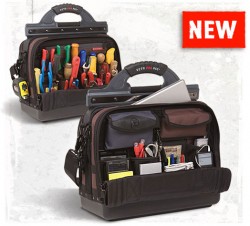 Jason Martin of Charleston, W.Va., knew he had to do something when the weight of his tools were ripping the straps on his backpack and, worse, threatening to damage his laptop computer. A systems administrator, Martin services computers for four pharmacies and his backpack didn't hold all the tools he needed.
His frustration ended when he bought the Veto Pro Pac's Model LT-XL tool bag designed to hold a laptop computer, business paperwork, and a wide variety of hand tools stored vertically in dozens of small pockets.
Job-site tough, the Model LT-XL follows in the tradition of Veto Pro Pac's other high-quality tool bags, all designed for use by professional tradesmen to withstand the day-to-day rigors of a job site. The Model LT-XL is made of ultra-rugged, PVC impregnated, denier body fabric and has a thick, injection-molded polypropylene base. It stands up, and keeps tools within reach, stored in such a way that a craftsman has immediate inventory of every tool available.
No more buying tools that are temporarily misplaced; for Martin, no more wasting time emptying his backpack to find a tool. "Now, I can find everything I need," said Martin, who said that the bag holds the 30-40 tools he uses, plus his laptop computer and has enough room to store 30 feet of network cable.
Brad Brinke, a Norfolk, Va., home inspector, agreed. In his work, he needs a laptop to generate immediate, on site reports after his inspections are completed. But his job also requires the use of a variety of hand tools.
That's why he bought the Model LT-XL. "It stores the 40 or so tools I need, my laptop, and I can even fit in my portable printer, too," Brinke said, noting that he has owned other Veto Pro Pac tool bags for five years.
Veto Pro Pac is short for Vertical Tool Organization Protected and Packed.
Veto bags are professional grade, industrial strength storage systems designed to keep tools where they belong, within easy reach, protected from work site hazards. Designed for professional tradesmen, Veto bags are built to withstand the rigors of day-to-day use on and off the job site.