June/July 2012 print edition of Contractor Supply magazine
The following selected stories appeared in the June/July 2012 issue of Contractor Supply magazine.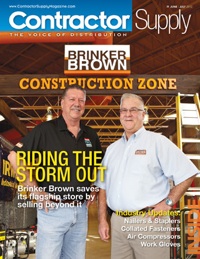 Cover Story:
Riding the Storm Out
Florida's Brinker Brown saves its flagship store by selling beyond it.
STAFDA News June/July 2012:
STAFDA's Orlando Convention workshops are announced.

Featured Supplier: Karcher: The world's largest power cleaning compnay aims for the supply channel
Acquisitions Consultant: M. Jay Heilbrunn: Why acquisitions fail
Sales Consultant: Joe Ellers: Four excuses not to call that salespeople don't even realize they've made
Distribution Consultant: Jason Bader: Is VMI right for you?