2009 STAFDA Show Report
Show sounds a strong finish to 2009 — and bodes well for 2010
---

The unspoken question on a lot of minds in the run up to STAFDA's 33rd Annual Convention & Trade Show Nov. 8 -10 in Atlanta was how many people would show up. As the United States' leading construction industry events, STAFDA and the World of Concrete most accurately predict the market for the year to come. Whether they attended or not, the eyes of the industry were on STAFDA in November, just as they will be on the World of Concrete in February.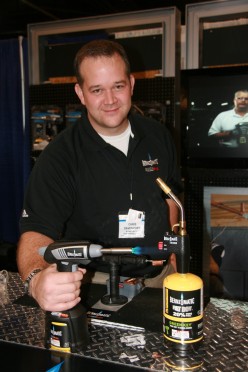 Chris Davenport, senior product manager for the BernzOmatic division of Newell Rubbermaid, fires up literally the hottest new product in recent memory, the QuickFire Torch.
Those eyes are shining a bit more brightly today. More than 3,750 STAFDA members braved the economy, came to Atlanta and were rewarded with an outstanding convention and trade show.
Educational sessions, including economist Alan Beaulieu's take on where the economy is headed in 2010, were standing-room-only events.
On the Trade Show floor, 705 exhibiting companies offered an astounding range of new products, many of which were introduced to the industry here.
Almost as impressive was the number of companies exhibiting for the first time. One, mobile workstation and toolbox maker Trimmer Manufacturing of Las Vegas, NV, pulled strong booth traffic for the entire show.
"I wish we had done this show sooner," said John Trimmer, company founder.
"STAFDA was great for us," said Jerry Zimmerle, Trimmer's director of sales, after the event. "We had as much traffic as our four salespeople could handle. The response to our product was very good and was verified by people contacting us before we could even get home. We look forward to taking our product global and STAFDA helped us get there."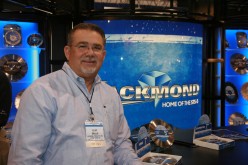 "Even though booth traffic is down a bit, our traffic has been very high quality; the decisions
makers are here. This has been a good show for us." — Cliff Sallis, president, Lackmond Products
Veteran STAFDA companies were also here in full force. Johnson Level's booth buzzed the entire show with people viewing new products, including its new 40-6028 and 40-6048 digital levels with Glo-View, rotating lasers and 1707 series box beam levels.
"We designed our new 1707 Series box level with an oversized frame for a taller and wider profile," said John Dwyer, vice president of sales and marketing for Johnson Level. "The vials are ringed by our patented iridescent Glo-View material. Our new digital levels also feature Glo-View, work in five construction languages and can sound an adjustable audible alarm when the user is within 10 degrees of level or plumb."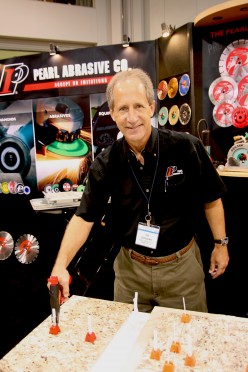 Pearl Abrasives' Tim Donovan demonstrates the smartest, fastest way yet to ensure a level tile floor with the two-piece Tuscan Leveling System. Simply amazing.
But the show wasn't all business. The spectacular Georgia Aquarium was the site of this year's opening reception. Attendees dined and strolled through underwater tunnels and gazed up at whale sharks through the glass walls of the world's largest tank — an awe-inspiring beginning to a great show.
Mark those calendars!
We are all thinking about 2010 anyway so mark your calendars now for the 34th Annual STAFDA Convention and Trade Show November 7-9, 2010 in Phoenix. Since we all hope to be in better shape by then, I might add that metro Phoenix has 185 golf courses, more restaurants than you can shake a burrito at — and free sunshine!
For information, contact STAFDA at 800-352-2981, or visit them online at www.stafda.org.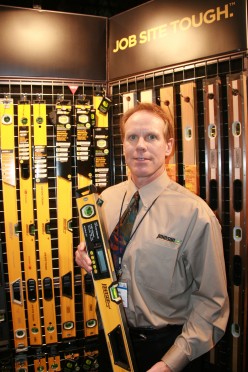 John Dwyer, national sales manager for Johnson Level was busy showing vistiors Johnsons's new super-heavy-duty 1707 Series box beam levels and brand new digital level.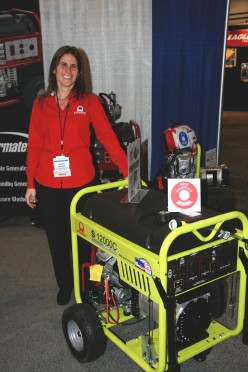 Andrea Berger introduces Pramac's S 12000C generator at the show. Pramac also offered show-only deals to distributor attendees.