STAFDA 2012 New Products Preview
New products you can see at STAFDA in Orlando.
---

As the construction market recovery builds, so too are manufacturers building their portfolios of new products. Here, culled from the pages of our Oct/Nov 2012 STAFDA Convention & Trade Show special issue of Contractor Supply and offered up in carefully considered, completely random order are selected new products you can see for the first time at the show in Orlando — with booth numbers, too!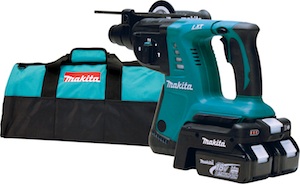 Booth 900-905
Makita USA
At STAFDA, Makita will debut a true 18-volt solution for corded-power demands, the HRH01ZX2 18V LXT X2 Lithium-Ion Cordless 1-inch Rotary Hammer, powered by two 18V Lithium-Ion batteries. With the HRH01ZX2, users get 3 Joules of impact energy, two-times faster drilling and up to three-times longer run time than other 18V rotary hammers. The end user also gets convenience, because the HRH01ZX2 is powered by the same 18V Lithium-Ion batteries that power over 50 Makita 18V LXT tools.
www.makitatools.com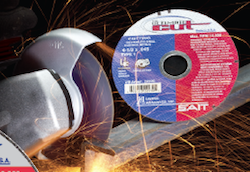 Booth 1051-1053
United Abrasives-SAIT
United Abrasives-SAIT Ultimate Cut Type 1 and Type 27 0.45-inch high-performance high-speed cut-off wheels deliver exceptional cutting performance for thin and thick gauge flat stock, bar stock, square tubing etc., in metal and aluminum. They deliver best-in-class cutting and extra long life in stainless steel. Type 1 and 27 wheels are available in 4.5-, 5- and 6-inch diameters with 7/8-inch arbors.
www.unitedabrasives.com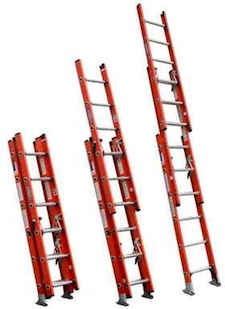 Booth 820-822
Werner Compact Ladders
Werner's new Compact 3-Piece Fiberglass Extension Ladder series comes in five sizes from 16 to 32 feet in height.
Their 3-piece design makes them 20 to 25 percent shorter than standard 2-piece extension ladders with no sacrifice of quality, safety or reach.
Additionally, in the extended position, more overlapping rung locations provide improved working comfort.
Their compact size also means users can lock them inside vehicles rather leave them exposed on the roof.
www.wernercompactextensionladder.com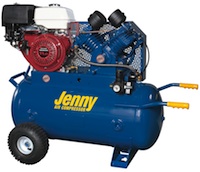 Booth 1112-1114
Jenny Products
Jenny G-series single-stage wheeled-portable compressors are available in four air tank configurations: 8- and 15-gallon low-profile powder-coated twin models and 17- and 30-gallon tanks, which are powder coated and ASME certified.
Each G-series compressor features the "G" pump, a heavy-duty, single-stage cast-iron compressor pump powered by an 8-hp Honda GX series gasoline engine. Special unloading valves assist in starting the engine, which comes with a recoil or electric start. Jenny G-series compressors can deliver up to 16.2 cfm at 100 psi or 15.6 cfm at 125 psi for quick recovery.
www.jennyproductsinc.com

Booth 845
Aervoe
Aervoe 398 LFP Cleaner/Degreaser trigger spray is a fast drying, industrial strength solvent that is inexpensive and ideal for cleaning and degreasing.
It removes grease, oil, wax, adhesives and other contaminants without leaving a residue.
It has a low flash point (LFP). It offers fast evaporation, a high dielectric strength of 33kV/mm and is non-corrosive and non-conductive.
Its any-way trigger spray will spray in any direction and it can be applied while mechanical parts are operating.
www.aervoe.com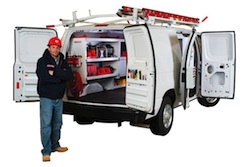 Booth 1140-1143
Knaack Weather Guard
New Weather Guard Van Solutions including professional trade packages, new bulkheads, shelving, accessories, specialty and secure storage along with enhanced organization and quick installation features.
New profession-specific van storage packages are available for all full-size, high-roof and compact vans.
www.weatherguard.com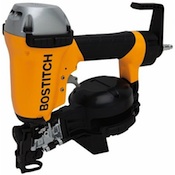 Booth 513-515
Bostitch
The Bostitch model SF150C 1 1/2-inch light gauge steel coil nailer uses a new line of light gauge steel fasteners ranging from 1 to 1-1/2 inches to help tackle commercial or residential sheathing jobs without the time-consuming process of driving screws.
It delivers 430 inch-pounds of impact energy and weighs only 5.8 pounds. It has a seven-year limited warranty.
www.bostitch.com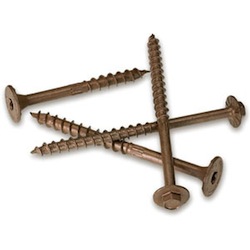 Booth 1158-1168
Simpson Strong-Tie
Simpson Strong Drive SDWS and SDWH hex-head screws provide high-strength
alternatives to through-bolting and traditional lag screws.
The SDWS is designed for structural wood-to-wood applications including deck ledgers while the SDWH is for structural and general-purpose fastening.
They are available in 3- to 10-inch lengths.
www.strongtie.com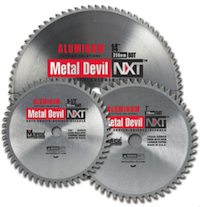 Booth 721
M.K. Morse
M. K. Morse introduces Metal Devil NXT aluminum cutting circular saw blades.
The new line will include 10 aluminum-cutting blades from 5 3/8 (137mm) to 14 inches (356mm) in diameter.
NXT provides significant advancements in carbide grades and tooth geometries.
The blade provides smooth, fast cuts and long life in a wide variety of aluminum shapes and solids.
www.mkmorse.com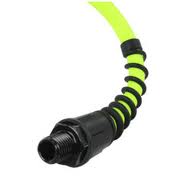 Booth 873-875
Legacy Flexzilla
Legacy Flexzilla Pro Line field-repairable air hose and fittings allow the end-user to repair damaged hose in seconds on the job site without special tools or clamps.
Flexzilla Pro air hose is made from a Hybrid Polymer material that is flexible in working temperatures ranging from -40 to 150 F.
www.legacymfg.com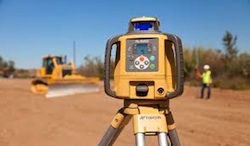 Booth 241-243
Topcon Positioning Systems
Topcon Positioning Systems (TPS) introduces the RL-SV2S dual-slope, long-range, self-leveling construction laser. It has an operating diameter of 2,400 feet. It slopes up to +/-5 percent and can be used in either the X or Y axis.
Features include long battery life (100 hours/alkaline and 60 hours/rechargeable NiMH), height of instrument alert, electronic shutters and a remote control.
www.topconpositioning.com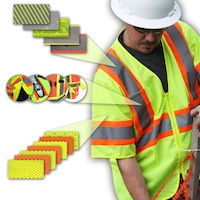 Booth 530
Radians My-Viz
Now customization of Made in the USA Hi-Viz safety vests and T-shirts is fast, simple and easy. Radians' CSS manufacturing facility in North Carolina enables quick turnaround times.
The online My-Viz software guides customers through customization choices including style, color, materials and other options including custom imprint messages or logos.
www.my-viz.com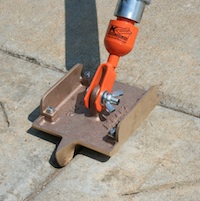 Booth 1224
Kraft Tool
Multi-Twist Concrete Tool Brackets from Kraft Tool rotate 360 degrees to work from any angle.
Twist the handle to tighten to any angle.
The Clevis bracket works on walking groovers, edgers, brooms and other tools with clevis brackets.
The 2-hole and 6-hole brackets fits most fresnos, bull floats, brooms and airplane groovers.
www.krafttool.com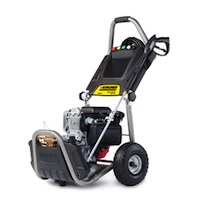 Booth 559-561
Kärcher North America
The Kärcher G 3200 XH gasoline pressure washer delivers power and performance in an ergonomic design, providing exceptional balance and maneuverability.
The adjustable heavy duty frame folds down to create a protective "roll cage" and features machined tie downs, perfect for both transport and storage.
The G 3200 XH comes equipped with a patented Kärcher direct drive pump and is powered by a Honda GX 200 engine.
www.KärcherResidential.com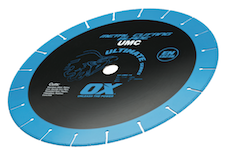 Booth 1341-1343
Ox Group USA
Ox Group USA introduces three high-performance blades — the OX-UMB Metal Cutting Blade, the OX-USB Super Abrasive Metal Blade and the OX-UMC Chop Saw Metal Cutting Blade.
The OX-UMB for cutting ductile iron pipe, cast iron, rebar, steel,
fiberglass, plastic pipe and concrete with hand-held cutoff saws is available in 12- and 14-inch diameters. The OX-USB for angle grinders and cutoff saws comes in sizes from 4 to 16 inches in diameter. The OX-UMC for chop saws is a 14-inch blade.
www.oxtools.com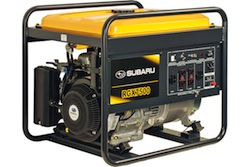 Booth 536
Subaru
Subaru's RGX7500 generator carries the company's industry leading five-year warranty on both the generator and engine. Powered by Subaru's largest EX engine, the 14-hp EX40, the RGX7500 delivers 7,500 watts maximum (6,000-watt standard output rating). Its 7.3-gallon fuel tank delivers 7.4 hours of continuous run time at the rated load.
www.subarupower.com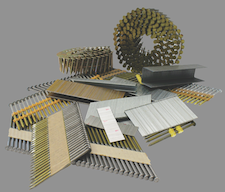 Booth 1212-1214
SteelLinx fasteners
SteelLinx high-quality collated fasteners can be used in almost any brand of tool.
The line includes plastic and wire coil, plastic, wire and paper strips, finish nails, brads and staples.
Color-coded packaging and signage direct customers to their application and user-friendly labels help identify the right fastener for their tool and project.
www.steellinx.com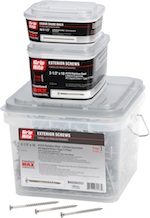 Booth 846
Grip-Rite Fasteners
PrimeGuard MAX stainless steel fasteners are available in job-lot packaging in both hand-drive and collated versions.
Use our MAX Fastener Reference Guide to buy the amount needed to install your project.
www.primesourcebp.com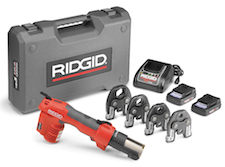 Booth 434-436
Ridgid Press Tools
The RP 200-B is the newest addition to the Ridgid press tool line, giving contractors another option for a fast and reliable way to join copper, stainless steel and PEX.
The in-line form of the tool allows access to tighter spaces, enabling press connections in difficult to reach areas. The tool comes standard with two 18-volt, 1.1-Ah Lithium-ion batteries that can produce over 100 presses per charge. Large-capacity 2.2-Ah and 3.3-Ah batteries are also available and can achieve over 300 presses per charge to maximize uptime.
www.ridgid.com

Booth 929
Markal Pro-line XT
Markal Pro-Line XT markers are available in 14 bold colors of an innovative, highly-visible paint formula that allows continuous marking even on rough, rusty and dirty surfaces. The enamel-based paint binds quickly to the surface to offer the ultimate wear, weather, UV and chemical resistance, improving part traceability and eliminating lost parts and reworks, which save time and money. Pro-Line XT markers have a marking temperature range of -50°F to 150°F.
www.markal.com

Booth 858-860
Trimble Spectra Precision
Trimble's Spectra Precision QM75 Quick Measure enables one person to measure distance with ±1.5 mm (±1/16") accuracy up to 70 meters (230 feet).
Units of measure are selectable between meters, millimeters and both fractional and decimal feet/inch units.
www.trimble.com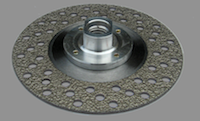 Booth 601-603
Bartell Morrison
The Cut-N-Grind from Bartell Morrison is a dual-sided cutting and grinding disc for carbon steel, aluminum, fiberglass, composites, concrete, stone and clay products. When one side wears down, just flip it on the hub to double its life. It has a diamond-lined edge for occasional cutting. Cut-N-Grind is up to 30 percent faster than abrasive wheels and outlasts up to 60 abrasives wheels. It also suffers no loss of diameter like standard type 27 abrasives.
www.bartellmorrison.com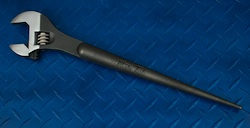 Booth 605
Martin Tool & Forge
Martin Tool & Forge introduces a new adjustable spud-end wrench with an adjustable 1 1/2-inch jaw capacity and a 12-inch alignment spud. The ground end-spud allows for quick, easy alignment of holes and fasteners. One great feature of this tool is its large knurl with lead-in for better access while adjusting.
www.martintools.net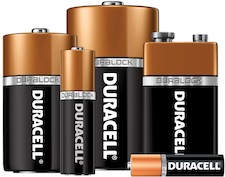 Booth 1111
Duracell Professional
New Duracell batteries with Duralock Power Preserve Technology are guaranteed to stay powered for up to 10 years in storage.
Duracell with Duralock will be packaged with a "good until" date and sport a Duralock ring to let users know at a glance that batteries left in a drawer will still work when they are needed most.
www.duracell.com/procell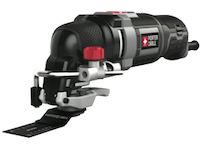 Booth 508-510
Porter Cable
The new model PCE605K corded oscillating multi-tool kit from Porter Cable includes a 3.0-amp motor that delivers up to 10,000-22,000 oscillations per minute (OPM). It features PC's tool-free blade change technology and comes with 31 accessories, including a depth/cutting guide for stability when making long cuts. A generous 10-foot power cord expands the tool's reach.
www.portercable.com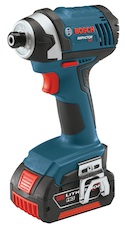 Booth 700-711
Bosch 18-Volt Impactor
The Bosch IDS181 Impactor line features a compact head length of just 5.4 inches and a lightweight design of just 2.9 pounds to deliver the best balance and control for 18-volt small- to medium-duty applications.
It delivers 42 percent more runtime compared to similar in-class competitors, 15 percent less torque and 10 percent more speed.
The tool's Flexible Power System is compatible with every 18-volt Lithium-ion Bosch battery – both FatPacks and SlimPacks.
www.boschtools.com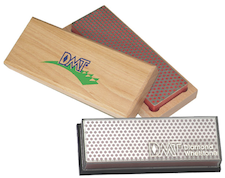 Booth 647
DMT Diamond Whetstones
DMT's Made in the USA 6-inch diamond whetstone transforms the tool-sharpening
process into an effortless, satisfying routine. It is available in four grits — extra coarse, coarse, fine and extra fine.
A few light strokes are all that's needed and there are no messy oils to struggle with — just sharpen dry or with a few drops of water.
www.dmtsharp.com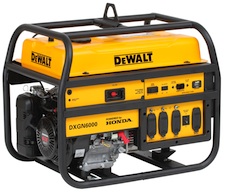 Booth 533-535
Pramac America
Four new DeWalt generators from Pramac America range from 4,500 to 14,000 watts.
All four models are powered by Honda GX engines with auto engine shutoff for low oil.
Each also has a premium alternator that provides low total harmonic distortion. All four models are EPA, CSA and CARB compliant.
www.dewalt.com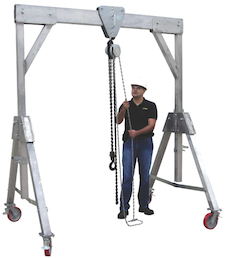 Booth 327-329
Sumner Manufacturing
Sumner Manufacturing introduces the new lightweight, portable and easily-assembled GH2T gantry lift for mechanical contractors.
The GH2T has a lift capacity of up to 4,400 pounds, is available in four Imperial sizes (8-, 10-, 12- and 15-foot) and three Metric sizes (3-, 4- and 5-meters).
It is light enough to be erected by a two-man crew.
www.sumner.com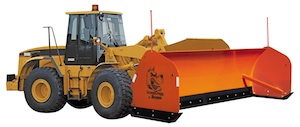 Booth 951-953
Buyers Products
ScoopDogg snow pushers from Buyers Products offer durable snow moving solutions for loaders, backhoes, skid-steers and compact equipment.
The line includes 18 sizes of snow pushers. Loader and backhoe ScoopDogg models feature an exclusive extreme-duty H-beam design with 12-inch push beam for superior support.
www.buyersproducts.com

Booth 734-736
Nupla
Nupla pry bars features a 50,000-strand composite of Nuplaglas molded inside a weather resistant polypropylene jacket that is bonded to a drop-forged and hardened steel point and wedge end. These composite handled tools are considerably lighter than steel pry bars, but perform just as well. They are insulated from heat, cold and electrical shock and carry a lifetime warranty. The line offers bars in single-end, double-end, striking and certified non-conductive versions with pointed or curved wedge ends. They are available lengths from 30 to 50 inches.
www.nuplacorp.com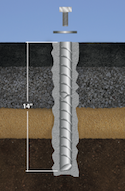 Booth 609
Asphalt Anchors Group
Asphalt is a relatively weak surface, and care must be taken when installing structures to its surface. This is particularly the case when the asphalt is less than five inches thick, as is the case in many parking lots and driveways.
The BoltHold SP12 anchor/fastener has a unique threaded tube body and top washer that lend the SP12 a pull rating of 2,000 pounds if installed using a 7/8-inch hole and with a recommend grout. At ground level, the installed anchors can resist at least 2,000 pounds of shear force.
www.asphalt-anchors.com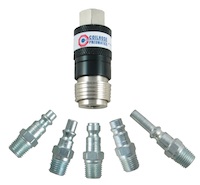 Booth 859-861
Coilhose Pneumatics
The Coilhose Pneumatics new 5-In-1 Automatic Safety Exhaust Coupler is designed to remain connected to the plug until the downstream air is completely bled off. This reduces the possibility of injury to nearby personnel or damage to surrounding equipment from a whipping hose that was disconnected while pressurized air was still in the line. These couplers will also eliminate the guess work or inconvenience of matching interchanges because they will accept the 1/4" body size plugs of the most popular interchanges, Industrial (Mil-C4109), Aro, Automotive (Tru-Flate), Euro and Lincoln.
www.coilhose.com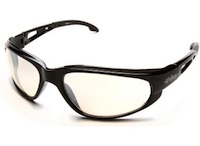 Booth 1350-1352
Edge Eyewear
Edge Eyewear's Vapor Shield anti-fog coating creates a lens that is absolutely impervious to fogging. Edge Military Vapor Shield lenses are capable of withstanding the most demanding exposures to heat, cold or humidity. All Edge Eyewear glasses are coated to prevent scratching and are compliant with ANSI Z87.1+ 2010 and Military Ballistic MCEPS GL-PD 10-12 standards.
www.edge-eyewear.com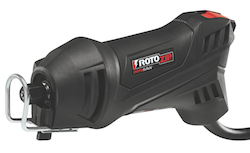 Booth 713
RotoZip
RotoZip's versatile RotoSaw Spiral Saw system is specifically designed to tackle plunge and freehand cuts in nearly any building material including tile, wood, plastic, laminate, underlayment and drywall. The RotoSaw is optimized for a broad range of applications and is compatible with more than 20 different cutting bits.
www.rotozip.com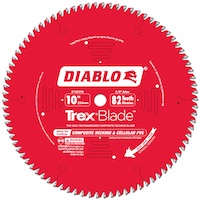 Booth 358-360
Freud
Freud America has partnered with Trex Company to create the first saw blade specifically designed for cutting composite decking materials.
The Diablo/Trex comes in 7 1/4-, 10- and 12-inch sizes for use on hand-held, miter and table saws.
It has a modified triple chip tooth grind design, Perma-Shield non-stick coating and specific TiCo Hi-Density carbide to deliver maximum performance.
www.diablotools.com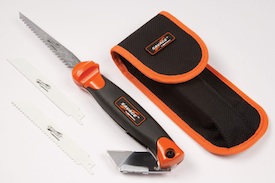 Booth 835-837
Swanson Savage
The Swanson Savage Folding Jab Saw/Utility Knife accepts any reciprocating saw blade, so you can use it for dozens of projects, from trimming trees to cutting metal conduit or plastic pipe.
And it's the perfect drywall saw. Saw blades can be locked in a straight or angled position for maximum flexibility. It comes with a sturdy carrying case, three saw blades and a utility blade.
www.savageunleashed.com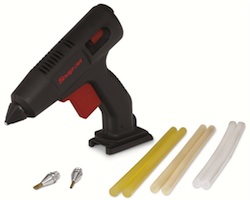 Booth 1321-1323
Snap-On Industrial
The new CAG6850 Cordless Adhesive Gun from Snap-on Industrial features a high-efficiency melt chamber capable of outputting up to 2.2 pounds of glue per hour.
It can be powered by three different battery packs: 14.4- or 18-volt Ni-CAD or 18-volt Lithium-ion. Its easy-squeeze two-finger trigger design allows for constant use with no fatigue.
www.snapon.com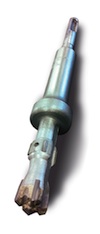 Booth 947
Tebmar
The Tebmar Proton Undercut Drilling System is designed for use in both cracked and uncracked concrete. This single-step system can used with conventional friction anchors and allows load transfer through bearing application.
The Proton system gives anchors a much higher preload, vibration load and higher resistance to seismic activity. It is available in 3/8-, 1/2-, 5/8-, 7/8- and 1-inch sizes for most standard drop-in anchors and is compatible with most hammer drills that use SDS+ bits.
The Proton Undercut System is made under ANSI compliance B212-15-1994.
www.teb-marproducts.com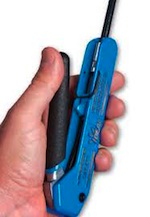 Booth 450-452
Ideal Industries
Ideal Linear X1 and Linear X3 compression hand tools bring added value to contractors installing CATV, CCTV and other audio/video systems.
Made in the USA, the Linear X1 and Linear X3 feature a zinc-coated, die-cast body with no plastic parts.
The handle has a double dipped textured cushion grip for all-day comfort.
www.idealindustries.com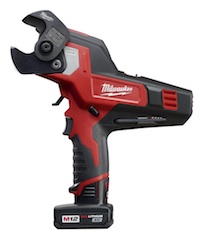 Booth 920-927
Milwaukee Electric Tool
Milwaukee's M12 600 MCM cordless cable cutter has a powered ratcheting mechanism that produces over 5,000 pounds of force yet fits into tight spaces.
A 2-speed gear case enables the user to quickly cut copper, aluminum, SER cables, G-type, paired communication cable and underground cable.
With up to a 600 MCM copper and 750 MCM aluminum capacity, it can handle virtually any commercial project.
www.milwaukeetool.com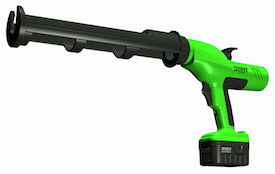 Booth 407
Stout Tool
The SPP-500C caulk dispenser has been designed to meet the needs of the professional contractor. The exclusive patented 2 Tools in 1 design is sold with interchangeable 10- and 29-ounce cartridge holders, one 14.4-volt NiMH rechargeable battery and a 120-volt AC charger.
Designed, assembled and tested in the USA, the SPP-500C features all-metal gearing for professional use, a maximum speed of two cartridges per minute and a battery capacity of up 100 cartridges per charge. The 1300:1 gear ratio provides enough power for any job.
www.stouttool.com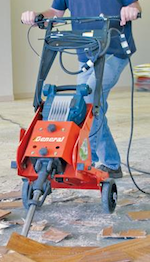 Booth 1165
General Tools
General Equipment Company introduces the CTS12 Rip-R-Stripper for floor-covering removal projects.
The CTS12 acts as a tool carrier for electric-powered breakers with ratings between 30 and 45 foot-pounds of force.
This includes popular models of Bosch, Makita and Hitachi breakers. Unlike random orbit-type tile stripper machines, the CTS12 provides a direct-impulse force which supplies adequate power to break through the high bond strengths of today's mastics, glues and thin-set materials.
www.generalequip.com

Booth 429
Driltec
Driltec's new Tile Remover/Scraper is ideal for fast and efficient tile removal or surface preparation with SDS-Plus rotary hammers. It comes in four- or eight-inch blade widths with replaceable blades. The assembly includes an SDS-Plus connector. The sturdy base body is designed for carefully crafted blades with a 1.5-mm thickness.
www.driltec.com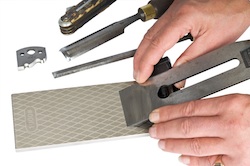 Booth 404
Trend Routing
Building on the unprecedented success of the Classic Professional Double Sided Whetstone, Trend is combining the features of their two flagship precision 8-inch stones into one product.
The new Classic Professional MK II has a 300-grit coarse side with clearance channels; the fine side has 1,000-grit diamonds.
www.trend-uk.com/en/US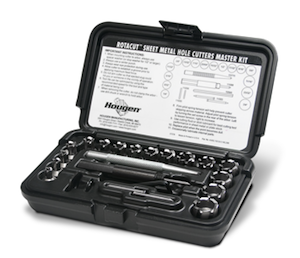 Booth 732
Hougen
Two new RotaCut sheet metal hole cutter master kits from Hougen contain 16 different sizes of RotaCuts for drilling holes in materials up to 1/4-inch thick. The fractional kit includes cutters from 1/4 to 3/4 inches and the metric kit includes sizes from 6mm to 20mm. RotaCut's can be used in hand-held drills with 3/8-inch chucks and in drill presses.
www.hougen.com