STAFDA 2012 Tech Fair
Software, hardware, e-commerce and related technology exhibitors at STAFDA.
---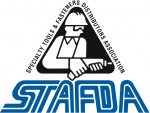 The STAFDA Technology & Consultants Fair, provides an entry to management executives shopping for new technology ideas. Held as part of our Annual Convention & Trade Show, the Tech Fair will be November 5, Noon – 6:00 p.m., at the Orange County Convention Center.
Each year, STAFDA members come to the Fair looking for new software, hardware, e-commerce and other technology providers to answer questions and demonstrate the latest innovative products.
The following companies were signed up as of press time. Check at the convention for a complete listing.
For up-to-the-minute STAFDA Convention news and exhibitor listings, visit www.stafda.org.