STAFDA News, Aug/Sept 2012
---

Here comes the sun!
STAFDA's Orlando Convention & Trade Show is November 4-6 at the Orange County Convention Center. STAFDA promises great learning opportunities, a Trade Show full of outstanding products and promotions, and events that will make our 36th Annual Convention especially memorable.
Sunday, November 4
A full day of Educational Workshops begins with morning sessions featuring STAFDA Consultants. Alan Beaulieu will provide his Economic Forecast, while Nancye Combs discusses the latest in Human Resources Issues, and Bob DeStefano takes a look at Marketing to Generation Net.
Afternoon programs led by business experts include Joe Ellers, Take Absolute Control Over Time, Brent Grover, In Search of the Perfect Customer, Pete Land, Situational Leadership, and Tim Underhill speaking on Collaboration.
The Spouse/Companion program will highlight the construction skills and willpower as attendees design and build a structure from chocolate bars and "concrete" frosting.
That evening is STAFDA's Opening Block Party at Universal CityWalk. Members will have private access to their own section of the Universal Orlando Resort to enjoy an eclectic mix of themes, cuisine and entertainment from seven different venues.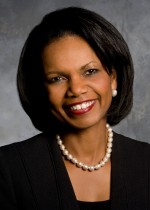 On Monday, November 5, former U.S. Secretary of State,

Condoleezza Rice

will take the stage to give her perspective on the next day's Presidential election as well as the U.S. and global economies.
Monday, November 5
The Islanders Trio and their steel drums will welcome attendees to the General Session before the "Year-in-Review" and awards presentation. STAFDA President Kramer Darragh, Darragh Company, Little Rock, AR, will offer the Distributor State-of-the-Industry perspective before 3M's Jim Fall presents the manufacturers' view point. Former U.S. Secretary of State, Condoleezza Rice will take the stage to give her perspective on the next day's Presidential election as well as the U.S. and global economies.
Distributors will then be turned loose onto the Trade Show floor for six hours of show-only discounts, new product sampling and relationship building. The Tech & Consultants' Fair also provides an opportunity to test drive the latest in services, benefits and meet individually with STAFDA-endorsed consultants and service providers.
Tuesday, November 6
Members have six additional hours to work the Trade Show while the Spouse/Companion Tours visit Winter Park or the Kennedy Space Center. The Closing Party wraps things up for 2012 as attendees look ahead to the election results and STAFDA's 37th Annual Convention & Trade Show in Las Vegas, November 11-13, 2013, at Mandalay Bay.
The STAFDA Convention & Trade Show is for members only.
For more information on the Orlando Convention and STAFDA membership, please contact Catherine Usher, member services director, at 800/352-2981; e-mail cusher@stafda.org; or visit STAFDA's Web site, www.stafda.org.