STAFDA News, December 2013/January 2014
---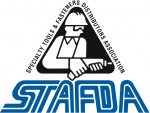 Vegas Jackpot!
Specialty Tools & Fasteners Distributors Association (STAFDA) had a winning Convention & Trade Show in Las Vegas, Nov. 11-13, at Mandalay Bay Resort & Casino. More than 4,850 members made this the best-attended event in five years while the 797-booth Trade Show was one of the largest to date.
Plans are already in the works to make the 38th Annual STAFDA Convention & Trade Show in Charlotte, NC, another can't miss opportunity. Mark your calendar to join STAFDA, November 9-11, in the Queen City!

New Association officers were announced in Vegas as well. Eric Grabowski, Edge Construction Supply, Spokane, Wash., will serve as president; Rod Gowett, Bay Tool & Supply, Milpitas, Calif., is vice president.
Two new Board of Directors were also elected: Ronnie Mann, Mann Tool and Supply, West Columbia, S.C., and Tom Leahy, Border Construction Specialties, Phoenix, Ariz. They will serve three year terms.

New appointments to STAFDA's Liaison Committees were named. Incoming Manufacturer Liaison Committee members are Kari Holcomb, Cox North America, Haslett, Mich., Andy Johnson, Mar-Mac Wire, McBee, S.C., and Wayne Quarls, Spectra Precision/Trimble, Dayton, OH.
New Rep Liaison Committee members are Steve Kraft, Pro Staff Sales, Lawrenceville, Ga., and Bob Patch, Canow-Western, Chino, Calif. They each serve three year terms.

Visit Us Again in Vegas
Join STAFDA members during World of Concrete in Las Vegas at its hospitality party, January 21, 2014 at the Renaissance Las Vegas (adjacent to the Las Vegas Convention Center). The party is from 5:00-7:00 p.m. and is a great chance to introduce potential members to the Association, talk to peers, learn more about member benefits, as well as enjoying beverages and hors d'oeuvres.

University of Industrial Distribution Scholarships
STAFDA, a sponsoring association, will be offering 15 scholarships to the University of Industrial Distribution (UID), March 9-12, in Indianapolis. The intensive four-day educational program is designed specifically for professionals who represent a broad base of hardline channels. Attendees create their own curriculum and courses are taught by respected distribution experts. Topics include sales planning, negotiation skills, leadership, delegation, finance, inventory management and branch management.

STAFDA distributor members interested in applying for the $1,500 scholarships (the cost of UID, plus monies to cover travel expenses, up to $500), should log in to the members-only section of www.stafda.org for details or contact the STAFDA office.

Congressional Fly-in Announced
Members have the opportunity to join other STAFDA colleagues for a one-day, grassroots event to meet with legislators on important business concerns affecting the
construction industry during the second STAFDA Congressional Fly-In. Attendees will meet in Washington DC on Thursday, June 12.

For more information on the events above or about STAFDA membership, please contact the STAFDA office at 800/352-2981 or info@stafda.org.