STAFDA News, February/March 2016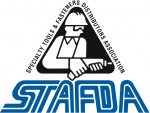 It's time to celebrate with STAFDA!
STAFDA is heading to Atlanta to celebrate its 40th Anniversary. Mark your calendars for November 6-8 when things heat up at the Georgia World Congress Center.
This year's Opening Party will kick off the festivities at the College Football Hall of Fame, where record-breaking players and coaches have their legacies celebrated in a one-of-a-kind experience. Members will come through the Entry Tunnel, which boasts larger-than-life images from 11 conference champions (updated each season). Attendees then enter the Quad, anchored by the Helmet Wall featuring all 765-plus college football teams.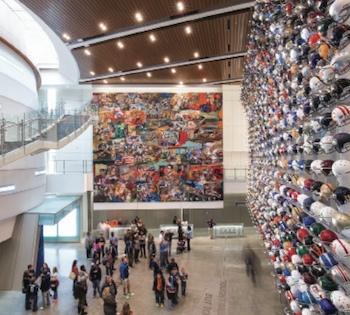 To kick-off its 40th anniversary Convention & Trade Show, STAFDA has reserved the College Football Hall of Fame for the convention's Opening Party.
Members can then personalize their All-Access Pass credential specifically to their favorite college football team before hitting the Playing Field. The Field is an indoor, half-football field including a massive 36-foot high-definition video board and a regulation goal post. It's roughly 45 yards long and 30 yards wide with a 10-yard end zone spanning over 15,000 square feet with a variety of games, activities, food and beverages.
Registration materials will be mailed to members at the end of June while online registration opens June 27 at 8:00 a.m. (Central) from within the members-only section of www.stafda.org.
Members can make their room reservations at STAFDA's host hotels beginning on June 27. The hotels include the Omni CNN Hotel, DoubleTree Atlanta and Westin Peachtree Plaza.
The STAFDA Convention & Trade Show is for members only. Please visit our website for membership applications or contact the STAFDA office for an informational packet. A tentative agenda will be posted to our website at the end of March.
Free Webinar Series
STAFDA's free monthly webinar series is off and running again. Well-known industry speakers spend an hour online and on the phone with members discussing topics ranging from HR to inside sales to the future of the economy. Each program is 45 minutes of presentation followed by 15 minutes of Q & A. Upcoming programs include:
February 23: Anna Maria Soriano, Constant Contact, "Harness the Power of Mobile"
March 29: Paul Reilly, Reilly Sales Training, "Inside Sales & Service Pro"
April 19: Nancye Combs, HR Enterprise, "2016 – The Year of Bigger HR Challenges"
May 17: Bruce Merrifield, WayPoint Analytics, "Gross-Margin Percentage: A Poor Indicator of Profitability"
June 21: Alan Beaulieu, "Economic Update"
Additional webinars will be added later this spring. For details and to register, please log in to the members-only section of www.stafda.org and click on the Education tab.
For more information on these programs and STAFDA membership, please contact Catherine Usher, member services director, at (800) 352-2981 or e-mail cusher@stafda.org.