STAFDA Show Report 2013 — STAFDA Rocks Vegas!
STAFDA deals a winning show at Mandalay Bay.
STAFDA came, saw and rocked Las Vegas with a truly winning Convention & Trade Show in Las Vegas, November 11-13, at Mandalay Bay Resort & Casino. More than 4,850 members made the 2013 convention the best attended program in five years and the Trade Show's 797 booths had attendees hustling to see all the new products, old friends and first-time exhibitors in one of STAFDA's largest shows to date.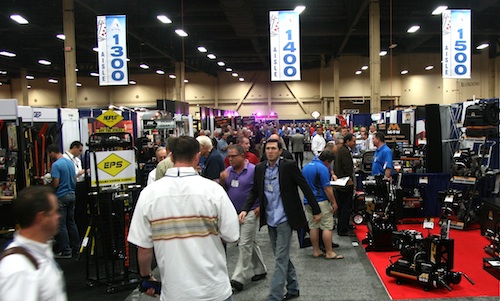 New dates and scheduling at this year's event had some attendees checking their agendas more than once, but as the convention ramped up everything fell into a comfortable rhythm as the educational sessions began on Monday morning. The day's top-flight presenters included Ryan Barradas, Dr. Marianne Jennings, Jack Daly, Mike Staver, Dr. Dan McQuiston and STAFDA inventory consultant Jon Schreibfeder.
Tuesday morning's General Session packed one of Mandalay Bay's massive auditoriums with attendees who turned out to hear an association update from STAFDA executive director Georgia Foley, and state of the industry addresses from out-going STAFDA president Rick Lamb and Husqvarna's Scott McKay. Then the crowd leaned in to catch a spirited "STAFDA Sports Center" special event with sports legends Terry Bradshaw, Jim Calhoun and Tony LaRussa being interviewed by famed sportscaster Roy Firestone.
Hit the Floor Running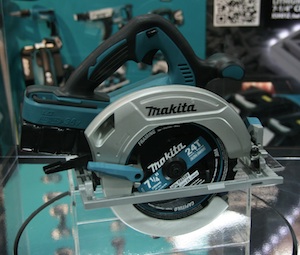 At noon on Tuesday it was time for the Trade Show and Tech Fair. New for 2013, a STAFDA Central hub anchored the show and quickly became a meeting point for attendees and exhibitors looking to conduct business outside of their booths.
On the show floor, STAFDA veterans, both big and small, were joined by some major new exhibitors. Most had well appointed booths but Makita gets extra credit for the sheer wow factor of their new-product-driven displays. While we are at it, let's have a look.
"This is the first 7 1/4-inch saw powered by two 18-volt batteries, making it ultimately a 36-volt saw," explained Makita's Mario Lopez. "It is the ideal substitution for the traditional corded saw user. It is the only cordless circular saw on the market that gives you true 7 1/4-inch capacity but it runs on the same 18V battery that powers more than 70 tools in the Makita Lithium-ion platform."
Pointing out other new tools in Makita's space, including the model XPH07 4.0-Ah 18V hammer driver drill due in spring 2014, Lopez said, "We love to talk innovation but it's really about delivering solutions in the job site to cut the cord, give contractors more efficiencies and expand the range of applications our tools can perform for them."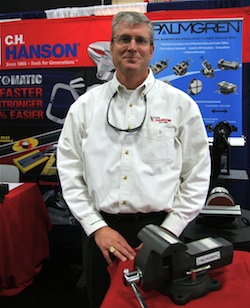 Nearby, Phil Hanson of C.H. Hanson showed his company's hand tool line, but talked about another.
"We just acquired Palmgren Steel Products," he said. "Its a great Chicago company founded in 1919 that has a long history making industrial drill presses before expanding into vices, grinding, sanding and other products. This acquisition just happened on October 24th, so we're excited to share the news with everybody here at STAFDA."
"The Palmgren line will broaden our footprint into the contractor supply market and make us a bigger player in the industrial market with some of our larger MRO customers. We have expanded our management team to help design and build a platform for growth. We plan on growing more aggressively here in the future."
The big news at Metabo is the company's new 5.2 Ah battery platform, the world's first.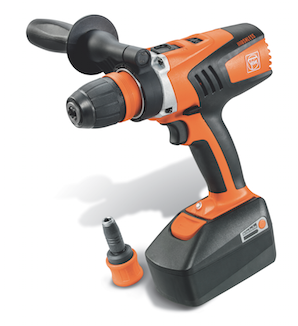 "The story here is the battery," said Jere Geib, Jr., marketing manager. "Every cell in the pack is monitored continuously, whether it's in the tool or in the charger. With Lithium-ion, if one cell under- or over-charges, the whole battery can be damaged. In our system, the minute any cell in a tool begins to over-discharge, the system shuts the battery down and tells you charge it."
"The same thing happens with the charging process — so you can't overcharge a battery and you can't over-discharge it either. That's why we can offer a three-year warranty on this battery regardless of how many charges you have on it."
Oddly enough, one of the hottest items in Metabo's booth was originally a freebie. Created as a combo kit item in Germany, Metabo's 18-LED cordless floodlight became a hit with contractors. Next a German carmaker began using them for spotting imperfections in paint booths and now uses them exclusively in its paint operations. Metabo is now offering the light in North America.
At the Fein booth, talk was all about the company's new four-speed brushless motor cordless drills.
"The top-of-the-line ASCM 18QX is a 4-speed, 1/2-inch drill with an interchangeable shift lever that allows direct shifting to any of its four no-load speeds of 400, 800, 1,950 or 3,850 rpm," explained Mike Murphy, Fein's western regional sales manager. "It offers 796 inch-pounds of maximum torque and weighs just 4.4 pounds. We are the only company on the market with a four-speed drill and its reception here at the show has been extremely positive. Our activity here has been excellent."
First-Timers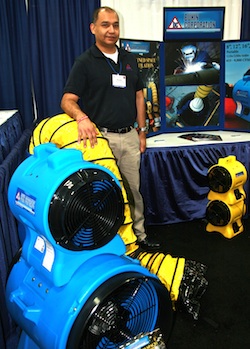 Attendees were drawn to the big, colorful job site ventilation products at Buhin Corporation's booth where company president Ricardo Davalos represented his Roselle, Illinois company.
"Our company has existed since 1999 but this is our first STAFDA show," he said. "We built fans for ten years for another company, which was later sold, so we decided to build and sell fans in our own name. All this product is brand new."
"Our line includes 8-, 12-, 16- and 20-inch diameter fans and we are here talking to new distributors and having a lot of fun. This is a great show."
Southwire may be a newcomer to STAFDA but it is an "household brand" in the electrical industry. For its first STAFDA, Southwire found itself located right next to STAFDA Central in the heart of the show floor.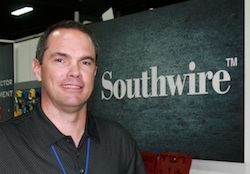 "Southwire has owned the Maxis contractor equipment line since 2009, and this year we launched our hand tool, test and measurement line," said Mitch Efnor, Southwire's national sales manager for tools and equipment. "We've gotten a great reception to it so far and we are really pleased with the response and have been extremely impressed with this show.
"Now that we've been able to gauge the value and opportunity here at STAFDA, we will definitely be coming back in 2014 with a stronger, more focused presence."
Fresh Faces
While not first-timers, the Nilfisk team is still relatively new to the STAFDA market. Nilfisk is well known for its high-end industrial vacuums. But this year Ashley Riley and Rachel Brutosky were showcasing the new Aero contractor grade systems.
"The four new Aero models are smaller capacity units for light daily construction work and our main goal was to make them user friendly and cost competitive," Riley said.
"Each comes standard with a washable PET cartridge filter for wet and dry pick-up that collects 99.9 percent of dust particles. Our Push&Clean semi-automatic cleaning system is also standard. The Aero models start at $225 and have 21-, 26- or 31-liter capacities."
As the trade show wound to its last few minutes on Wednesday Nov. 13, we stopped at one of the "last" booths of the show in the center of aisle 1800, to get Little Giant's impression of the event.
"This has been my first STAFDA show and we have had a ton of interest," said Kurt Kline, vice president of Little Giant Safety. "The safety category is getting more emphasis now than ever before and we have redesigned many of our products to offer new safety features. We have been really pleased with the number of distributors who have come by and said, 'Hey, this is really game-changing!'"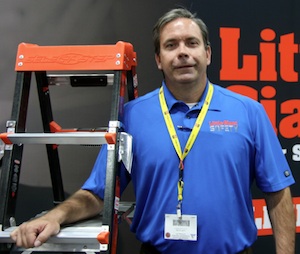 "The SelectStep and the Sumo Stance are our most popular products at this show," Kline said. "The SelectStep is a 6-foot, 7-foot and 8-foot ladder all in one — you will never have the wrong size ladder on the job site."
"We even added a platform that holds 275 pounds. And now it's a lot more comfortable; instead of standing on a rung, you're standing on a platform."
Gearing up for 2014
The 38th Annual STAFDA Convention & Trade Show is set for November 9-11, 2014 in
Charlotte, N.C. Visit www.stafda.org for more information.