Strong Results for World of Concrete 2010
Show draws 55,108 registered professionals and 1,354 exhibiting companies.
---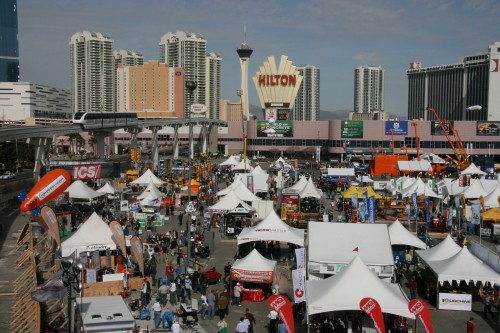 World of Concrete 2010, held February 2-5; Seminars 1-5, delivered another strong event with 55,108 registered professionals and 1,354 exhibiting companies in more than 600,000 net square feet of action-packed exhibit space.
"Our Exhibitors were pleasantly surprised at the bustling crowds on our opening day. The quality of participants we continue to bring to the show is what sets WOC apart from other shows in the commercial construction industry. Our goal is, and will always be, to bring together qualified buyers and sellers to do business, share ideas, and to network. Judging from the feedback we have received from our Exhibitors, we have accomplished this goal," said Tom Cindric, Show Director.
"World of Concrete 2010 has been awesome! We have an outdoor booth and have had a lot of traffic all week. We are getting a great response from people at the show. We knew there would be people here from all across the country and wanted to take advantage of this opportunity to launch a new product," said first-time exhibitor Dan Dodgen of Safety Step TD, Colton, California.
World of Concrete is proud to have been selected to participate in the 2010 International Buyer Program. World of Concrete Management and the U.S. Commercial Service worked closely in the global promotion of the show bringing International buyers and exhibitors together to expand business both domestically and overseas. As part of the program, delegations from all over the globe attended World of Concrete to network with other international visitors as well as connect with U.S. exhibitors interested in exporting goods and services.
Special workshops and programs were held in conjunction with the IBC including a Federal Finance Assistance Workshop for U.S. companies, presented by the U.S. Export Pavilion, helping U.S. companies with the information and assistance necessary to succeed in the global marketplace, and the SHOWTIME Program conducted more than 122 individual meetings allowing participating companies the opportunity to meet one-on-one with U.S. Embassy Commercial Building Products and Equipment Specialists at the Show.
This year, WOC's world-class Education Program offered 100+ expert-led seminars, packed with leading-edge advice on how to reduce costs, improve profits and save time. It featured 15 designated tracks with both 90-minute and 3-hour sessions that provided practical, field-proven instruction in everything from Concrete Fundamentals, Business & Project Management, Masonry, and Concrete Production to Decorative Concrete, Safety & Risk Management, and Finance & Money Matters.
Regional Education Conference announced
At WOC 2010, the first annual WOC Regional Education Conference was announced, which will provide the information and the continuing education hours contractors need to conduct work in many states. The Conference will take place at the Caribe Royale Orlando All-Suites Hotel & Convention Center, in Orlando, Florida, on May 14-15, 2010.
"We designed this unique Regional Conference program to provide valuable technical and business best practices relevant to today's concrete industry," said Bonnie King, Sr. Conference Manager of the World of Concrete Education Program. "With the in-depth content and variety of topics, attendees will walk away with proven strategies to grow and develop their businesses."
CIM (Concrete Industry Management) held the 5th annual unreserved live CIM Auction at WOC 2010 with all of the proceeds benefiting the CIM National Steering Committee to support their efforts to establish, support, and sustain its programs at selected universities. The auction, produced by Ritchie Bros. Auctioneers, raised $386,000, which included a silent auction before the live event, benefitting the CIM program.
The popular GREENSITE area on the show floor, in cooperation with the Concrete Joint Sustainability Initiative, showcased the latest green build technologies along with displays, video/live speaker presentations, and limitless information about this exciting new aspect of the construction industry.
Events included the Bosch Power Tool Challenge, the John Deere Load America Competition, and the Mack Driving Skills Safety Challenge. Along with these key spectator events were hundreds of outdoor exhibitors demonstrating many new products and cutting-edge equipment / technologies for a one-of-a-kind hands-on experience.
"I work for the county government here in Las Vegas. I try to come every year to see the relevant products and technologies are being offered here at WOC. This show is hard to beat with the indoor and outdoor exhibits and demonstrations," said attendee Kenneth Larson of Las Vegas, Nevada.
"This is the show for construction. There has been good traffic all week and the buyers are here," said exhibitor Charles Cook of Peterbilt Motors, Denton, Texas.
World of Concrete 2011
World of Concrete 2011 will be January 18-21; Seminars 17-21, back again in Las Vegas, at the Las Vegas Convention Center. Visit the World of Concrete website, full of brand new user-friendly features, downloadable high resolution 2010 show images, and technology to help buyers and sellers connect before, during and after the show at www.worldofconcrete.com.