Are You Carhartt Tough?
Carhartt and Cintas launch contest to celebrate new partnership.
---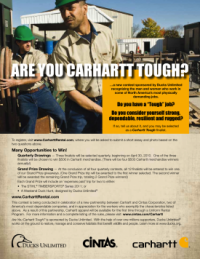 Carhartt and Cintas have launched their search for North America's toughest workers. The "Are You Carhartt Tough?" contest is being conducted in conjunction with the roll-out of a new product line being offered by the two companies.
Cintas Corporation (Nasdaq:CTAS), North America's largest uniform supplier, has partnered with Carhartt, a global manufacturer of premium workwear, to offer Carhartt garments for the first time in a Uniform Rental Program.
"This contest is really a reflection of our companies," says Chuck Helmes, Director of Garment Strategy at Cintas Corporation. "Both Carhartt and Cintas are known for providing tough products and dependable service, and we want to celebrate workers who reflect those same characteristics."
With Ducks Unlimited acting as media sponsor, contest organizers will reach out to the American workforce to identify people who are strong, dependable, resilient and rugged.
Beginning on April 30, three finalists will be announced each quarter. After a year's time, all twelve finalists will be featured on the contest website where the public will be encouraged to cast votes for the toughest of the tough. Two Grand Prize winners will receive either a weekend duck hunt trip designed by Ducks Unlimited or a trip to The Stihl Timbersports Series in 2011.
Contestants can register by visiting www.CarharttRental.com, where they can submit a short essay and photograph. "This is going to a fun contest," said Steve Carter, Vice President of Corporate Sales for Carhartt. "Our customers work hard and play hard, and these are two fabulous prizes that we look forward to presenting to our top two finalists."
Experience the Carhartt Difference in a rental program by visiting: www.cintas.com/Carhartt