Axion installs first ever recycled plastic railroad bridge at Fort Eustis, Virginia
Successful initial testing of first ever railroad bridge made from milk jugs and car bumpers supports 120-ton locomotive for the U.S. Army Transportation Corps.
---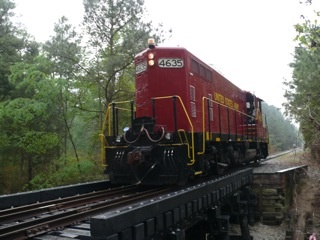 This is every child engineer's dream come true: Axion International Holdings, Inc. yesterday announced the completion of the first of two railroad bridges, constructed from 100% recycled plastic, at Fort Eustis, Virginia.
The bridges, designed by Parsons Brinckerhoff, utilize Axion's patented Recycled Structural Composite ("RSC") a thermoplastic solution consisting of nearly 100% recycled post-consumer and industrial plastic. Initial field test results confirm design criteria requirements.
The new short span bridges extend approximately 40 and 80 feet, respectively. Both bridges are designed to deliver a high-load rating of 130 tons (i.e. 260,000 pounds) which is necessary in order to transport locomotives and freight.
"This represents another truly historic event for both structural engineers and environmentally conscious individuals across the nation," said James Kerstein, Chief Executive Officer. "Not only is this bridge able to support the weight of a 120 ton locomotive, but it was also less expensive to build than one using steel, concrete or wood. Axion's RSC solutions are designed in a manner that are nearly maintenance-free and eco-friendly."
Parsons Brinkerhoff's Vijay Chandra, Principal-In-Charge for the design of the two railroad bridges, offered his own perspective. "RSC material meets the country's need for Green, Sustainable and Durable competitive products which are highly competitive initially and on a life cycle cost basis."
"Axion's collaboration with Parsons Brinckerhoff, Rutgers, Centennial Contractors Enterprises, English Construction and Innovative Green Solutions was an important milestone for us", Kerstein continues. " The combined sales, engineering, technology and construction effort can serve as a model for future projects. It is truly significant that our team's contributions allowed Axion to deliver these railroad bridge solutions without the need to manufacture or fabricate any new components. Our success at Ft. Bragg was used as the foundation for this newest achievement."
Project Highlights
The design and engineering work was supported by Virginia-based Centennial Contractors Enterprises, the prime job order contractor for the project, and Parsons Brinckerhoff, which has more than a century of experience in working on major complex bridges including such recent structures as the new Woodrow Wilson Bridge over the Potomac River outside Washington, D.C.; the Arthur Ravenel, Jr. Bridge over the Cooper River in Charleston, South Carolina; and the William Natcher Bridge over the Ohio River in Owensboro, Kentucky. The demolition and construction activities are being performed by English Construction Company, Inc., a privately owned company, in existence for over 100 years and conducting operations in eight states throughout the mid-Atlantic and Southeast. Innovative Green Solutions, an Axion channel partner, introduced Axion to the Fort Eustis project and participated in the negotiation and development of the project.
Fort Eustis is home to the US Army Transportation Corps, which is the branch of the US Army responsible for the movement of personnel and material by truck, rail, air and sea. Officers and enlisted soldiers at Fort Eustis receive education and on-the-job training in all modes of transportation, aviation maintenance, logistics and deployment doctrine and research.
Developed in conjunction with scientists at Rutgers University, Axion's cutting edge technology has resulted in virtually 100% recycled plastic materials, Recycled Structural Composites, that are the first known structural products of their kind that can support heavy loads. Compared to traditional infrastructure materials such as wood, steel or concrete, Axion's innovative products are more durable and significantly longer lasting.
About Centennial Contractors
For more than 20 years, Centennial Contractors Enterprises, Inc., has been a leader in construction services supporting government, educational and business facilities and infrastructures, with construction projects focused on renovation, rehabilitation and repair. To date, Centennial has supported over $2 billion in project solutions for its diverse customer base. Headquartered in Northern Virginia, the firm has over 45 offices nationwide. For more information please visit: www.cce-inc.com.
About Parsons Brinckerhoff
Parsons Brinckerhoff (PB) is a leader in developing and operating infrastructure around the world, with 15,000 employees dedicated to meeting the needs of clients and communities in the Americas, Europe, Africa, the Middle East, Asia and Australia-Pacific regions. PB offers skills and resources in strategic consulting, planning, engineering, program/construction management, and operations for all modes of infrastructure, including transportation, power, community development, water and the environment. For more information please visit: www.pbworld.com.
About English Construction Company
English Construction Company, Inc. is a third-generation family-owned business. For nearly a century, English has been advancing steadily, adding new skills, new resources and new technology. English has kept pace with changes in the construction industry, focusing on areas of expertise to include such diverse areas as bridges, power plants, factories, monumental structures and historic renovations. For more information please visit: www.englishconst.com
About Innovative Green Solutions
Innovative Green Solutions (IGS) is a woman owned small business and an Axion preferred partner for sales and distribution to the federal government. IGS understands our nation's need to create sustainable green solutions in our construction, transportation and facilities management projects and is positioned to "Preserve Tomorrow with Today's Solutions". For more information please visit: http://www.igsfederal.com
About Axion
Axion International is a green technology company offering cost-effective alternative infrastructure products and structural solutions. The Company's "green" proprietary technologies allow for the development and manufacture of innovative structural products made from virtually 100% recycled consumer and industrial plastics. Axion's up-cycled products are an economic and sustainable alternative to traditional building materials such as wood, steel or concrete. Developed in collaboration with scientists at Rutgers University, Axion's patented technologies allow for products that are extremely strong, durable, flexible in design and low maintenance.