Miller Welders unveils biofuel-powered jet dragster, launches 14-city NHRA exhibition tour with Larsen Motorsports
Miller teams with famed jet car driver Elaine Larson and crew chief/husband Chris Larsen to build and race the Miller Jet Dragster; a custom-built vehicle that reaches speeds approaching 300 mph.
---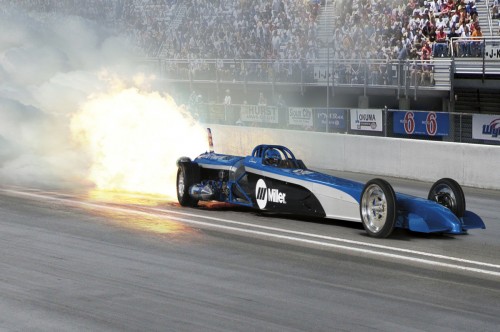 Built as a vehicle to engage the racing community, Miller Electric Mfg. Co. has launched the Miller Jet Dragster with a mission to promote welding and welding education at all levels of the National Hot Rod Association (NHRA) competition. Worthy Motorsports fabricated the 4130 chrome-moly frame and welded it using Miller Syncrowave TIG welders.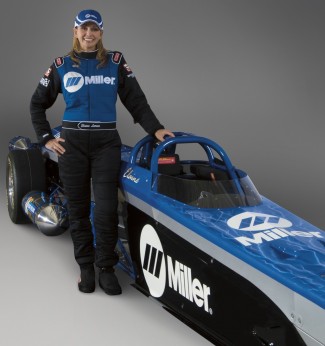 Custom designed by Larsen Motorsports and piloted by famed jet car driver Elaine Larsen, the Miller Jet Dragster will make exhibition runs at 11 regional NHRA track events and appearances at 4 national events (see event schedule listed below). The Miller Jet Dragster makes its debut appearance May 15-18 at the Cavalcade of Stars, Norwalk, OH.
In addition, Miller representatives, Miller's traveling "Road Show" — a semi-trailer filled with the company's newest welding products — and the Larsens will appear at all the scheduled track events for the Miller Jet Dragster.
Larsen Motorsports and Miller welding representatives will answer racing and fabrication questions and offer hands-on, live-arc welding demonstrations. Whether fans are entry-level or experienced welders, everyone is encouraged to "get under the hood" and try their hand at TIG Welding, MIG welding or plasma cutting.
"The Miller Jet Dragster complements our motorsports program with the mission to educate and promote welding at all levels of competition," said Vickie Rhiner, brand manager, Miller Electric Mfg. Co. "Our partnership with teams such as Larsen Motorsports support this goal, and we hope to inspire fabricators with the knowledge and tools to succeed, both on and off the track.
—
"Drag racing is the only sport where everybody gets to come in and meet the drivers, meet the crew and watch them wrench the cars between heats."
—Elaine Larsen, driver, Larsen Motorsports
Utilizes Environmentally Friendly Biofuel
The Miller Jet Dragster features a General Electric Model J-85 engine that generates 2,500 HP and an LMS custom designed afterburner that adds another 2,500 HP. Together, they produce 4,500 lbs. of thrust, propel the vehicle from 0 to 100 mph in 1.3 seconds and complete a 1/4-mile run in five seconds.
The Miller Jet Dragster is part of a green fuel technology research project in which Larsen Motorsports participates. Running different blends of biomass-based fuels, they hope to openly share the technology and its results with the rest of the automotive and aerospace communities (Elaine Larsen also drives a jet car for Embry-Riddle Aeronautical University, one of the world's leading aeronautic institutions). The goal is to learn about and develop cleaner fuels while maintaining the performance output.
Miller's Jet Dragster uses biofuel, which is partially refined from algae, corn and soybeans. The formula is a Jet-A blend for optimum performance. Cost per gallon is approximately $3.00 to $5.00. Early testing indicates the power output is as good or better running this fuel mixture over the standard fuel for which the engine was originally designed.
Event Schedule
For a list of appearance dates at welding supply distribution locations, visit Miller's Web site.
11 Regional Race Events
May 15-18 Cavalcade of Stars – Norwalk, OH
June 10-12 Roush Open House – Milan, MI
June 26-29 Night of Fire – Commerce, GA
July 16-20 Super Bowl of Drag Racing – Joliet, IL
July 30-Aug 3 Night of Fire – Norwalk, OH
Aug 21-24 Night of Fire – Reading, PA
Aug 27-31 World Series of Drag Racing – Cordova, IL
Sept 17-21 Lucas Oil NHRA Division – Belle Rose, LA
Oct 2-5 NHRA Beech Bend Raceway – Bowling Green, KY
Oct 9-12 NCMA World Finals – St. Louis, MO
Nov 27-30 Citrus Nationals – W. Palm Beach, FL
4 National Events
Aug 5-8 Cruisin' Ocean City – Ocean City, MD
Aug 5-8 Street Rod Nationals – Louisville, KY
Aug 10-12 Empire Farm Show – Louisville, KY
Oct 19-21 Sunbelt Farm Show – Moultrie, GA
Miller Electric Mfg. Co., headquartered in Appleton, Wis., is a leading worldwide manufacturer of Miller brand arc welding products and is a wholly owned subsidiary of Illinois Tool Works Inc. (NYSE: ITW).
For more information, visit Miller's Web site at www.MillerWelds.com, call 1-800-4-A-Miller (800-426-4553), e-mail info@millerwelds.com, fax 877-327-8132, or write to Miller Electric Mfg. Co., P.O. Box 100, Lithonia, GA 30058.