Steelmax completes acquisiton; begins releasing new tools
D2X mag drill is first out, with more to come in 2010.
---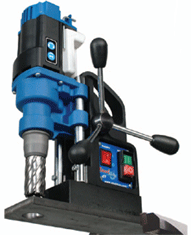 Steelmax Tools LLC, Centennial, Colorado, completed the acquisition of the Steelmax business in April, backed by investors who plan to build upon the successes of this specialty power tool brand that primarily serves the industrial and welding supply markets.
Steelmax Tools LLC will continue operating under the Steelmax brand name and continue to provide the high quality products and great customer service and support for which Steelmax has always been known.
Steelmax will continue to focus on portable magnetic drills, metal cutting saws and other metalworking tools and continue to provide a complete line of the highest quality carbide tipped blades and annular cutters.
The new owners, Kevin Allen and Pete Smith, look to grow the company through expansion of existing domestic market share, growth in export sales and continued innovation and development of high quality metal working products for professionals.
Steelmax has already announced the expansion of its magnetic drill line with the introduction of its D2X drill, a powerful addition to the line. Additional new product introductions are planned throughout 2010 and 2011.
Steelmax only sells through distribution; for more information visit www.steelmax.com or contact Mike Meyer in sales at 1-87STEELMAX.