MovinCool Announces Dare to Dream $25,000 Sweepstakes
Contest ends Sept. 30, 2010.
---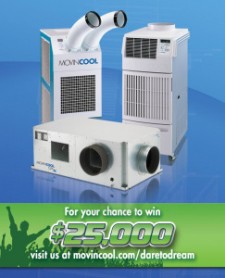 MovinCool announced a "Dare to Dream" sweepstakes contest that will award $25,000 in cash to the winner, selected randomly from among all eligible entrants. The contest entry period ends September 30, 2010. Entry forms are available at www.movincool.com/daretodream.
MovinCool, the world's largest manufacturer of spot air conditioners, is a brand of DENSO Corporation, which has pioneered the concept of workspace spot cooling since the 1980s. MovinCool offers a wide range of portable and ceiling-mount air conditioning systems for many different applications, such as emergency, backup and supplemental cooling, as well as moisture removal. For more information, visit www.movincool.com.
The MovinCool "Dare to Dream" sweepstakes is open to adults 18 years of age and older. Participants may enter once per week. No purchase is necessary. Employees of MovinCool or DENSO and their immediate family members are not eligible.
DENSO Corporation, headquartered in Kariya, Aichi prefecture, Japan, is a leading global automotive supplier of advanced technology, systems and components in the areas of thermal, powertrain control, electric, electronics and information and safety. Its customers include all the world's major carmakers. Worldwide, the company has more than 200 subsidiaries and affiliates in 34 countries and regions (including Japan) and employs approximately 120,000 people. Consolidated global sales for the fiscal year ending March 31, 2010, totaled US $32 billion. Last fiscal year, DENSO spent 9.1 percent of its global consolidated sales on research and development. DENSO common stock is traded on the Tokyo and Nagoya stock exchanges.