2011 International Builders Show offers free/discounted registration
NAHB members who register by Aug. 31 can attend the show free.
---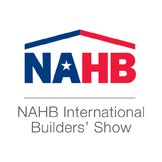 Plus, first-time NAHB member attendees can walk the show and attend sessions for a reduced registration rate of $100.
The National Association of Home Builders (NAHB) today officially opened online registration for the NAHB International Builders' Show (IBS), the largest annual light construction tradeshow in the world. Considered a must-attend industry event, the 2011 show, to be held in Orlando, Fla., Jan. 12-15, features attractive deals on registration fees and education sessions for members who register now.
"The NAHB International Builders' Show is the event of the year for our industry, with its unmatched networking opportunities, education sessions, product showcase and special events attracting tens of thousands of professionals from around the globe," said NAHB Chairman Bob Jones, a home builder from Bloomfield Hills, Mich. "With multiple discounts and incentives making attending even more affordable, this year's show is certainly one not to miss."
Attendees can choose from more than 175 education sessions offered on a wide variety of topics, including building trends, sales and marketing techniques, green building and the economic outlook. Several pre-show education courses are also available to attendees looking to complete training and earn industry designations such as Certified Aging-in-Place Specialist and Certified Green Professional, among others.
One of the biggest draws of the show is the expansive tradeshow floor exhibition. More than 1,000 exhibitors covering 500,000 square feet of exhibit space will be displaying the latest building products and services at the 2011 Show. Attendees will be able to network and make business deals with top vendors representing more than 250 product categories.
NAHB will again celebrate "Green Day" in recognition of the phenomenal growth of green building. Held on Jan. 13, Green Day 2011 will feature a record number of green exhibitors, special speakers, seminars on green building science, marketing and technology, a display of Solar Decathlon House models and other green promotions and events.
Another IBS highlight is The New American Home® (TNAH) 2011, a one-of-a-kind green show home that is being built in a nearby neighborhood and will be open for attendees to tour throughout the IBS. The state-of-the-art home incorporates builders' best practices, energy efficiency, indoor-air quality, safety, convenience and aesthetics.
Back by popular demand, the NAHB Finance Pavilion introduced at the 2010 show will provide NAHB members the opportunity to meet individually with a variety of capital sources and advisors to explore new financing solutions for their projects. NAHB members can purchase the $50 Pavilion upgrade to their full IBS registration, which will give them access to the Pavilion all four days of the show and an invitation to an exclusive networking event.
This year, NAHB introduces several new offers and incentives for attendees including:
· Free Exhibit Pass for NAHB Members -- Register by Aug. 31
NAHB members will be admitted to the show floor for free all four days of the show if they register by Aug. 31.
· First-time Member Attendee Registration -- Reduced
Members who plan to attend IBS for the first time are eligible for a reduced registration rate of $100, which enables them to attend any of more than 175 education sessions and tour the exhibit floor all four days.
· One- and Two-day Education Passes
Attendees can purchase one- or two-day passes for IBS education sessions, and access to the exhibits on all four days of the show is included. Passes will be available for education sessions held from Wednesday through Friday, Jan. 12-14. All seminars on Saturday, Jan. 15 are free. To take advantage of these passes, attendees must choose which day(s) they will attend sessions when registering for the show.
· Free Spouse Registration
Spouses of members and non-members can register for free in August.
Attendees can take advantage of several tools available at www.BuildersShow.com to plan for the show. The "My Show Planner" tool lets registrants keep track of the exhibitors they wish to visit and the educational sessions, special events, and NAHB committee meetings they want to attend at the show. The site also allows users to virtually tour the tradeshow floor and reach out to exhibitors prior to attending the show.
The NAHB International Builders' Show is not open to the general public. Building industry professionals and their affiliates throughout the housing trades are welcome to register by visiting the show's Web Site at www.BuildersShow.com.