IDEAL launches new TightSight Clamp Meters with "Cash 4 Clamps" campaign
Electricians receive rebates up to $100 plus a free Voltaware tester when they replace their old clamp meter with new industrial-grade Ideal 660/1000A TightSight.
---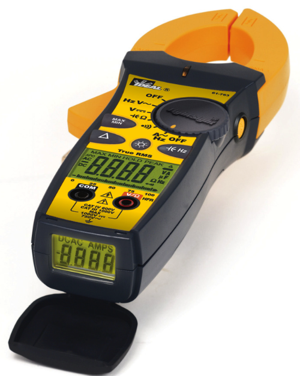 IDEAL today debuted an upgraded industrial-grade version of its award-winning TightSight Clamp Meter that features High Frequency Rejection (HFR) to assure accuracy when measuring in noisy electrical environments or with complex waveforms, such as adjustable speed drives.
Like the original TightSight that was awarded "Product of the Year" in 2005, this new meter has the exclusive TightSight bottom display for safe reading from virtually any angle, along with True RMS, CAT IV or CAT III safety ratings, and slim tapered jaws and a hook tip to reach into crowded cable bundles.
Building upon that success, IDEAL has hardened the original meter case and dial construction to withstand heavy-duty commercial and industrial settings, plus incorporated an on-screen low battery indicator that warns the user an hour before power is shut off to avoid inaccurate readings. HFR makes the meter immune to electrically noisy areas when measuring AC current, DC current, AC/DC voltage, frequency, resistance or capacitance.
The new meter is available in four professional quality models: 660A with or without DC current measurement, and 1000A with or without DC current measurement. Each is ergonomically engineered to feel comfortable, even when the user is wearing heavy gloves.
CASH 4 CLAMPS
To help stimulate upgrades to the new TightSight, IDEAL is launching the Cash 4 Clamps program. Effective immediately and running until year end, Cash 4 Clamps rewards buyers of a new TightSight with a free IDEAL Voltaware non-contract voltage tester plus cash when they send in their old clamp meter. For the purchase of a 660A model the electrician will receive a $75 (U.S.) rebate, and $100 if they buy the 1000A clamp. Rebate forms are available at IDEAL distributors.
For more information, contact IDEAL INDUSTRIES, INC., Becker Place, Sycamore, Illinois 60178. Or phone 1-800-435-0705, Fax: 1-800-533-4483. On the web, www.idealindustries.com.