MAX to launch new tools at STAFDA
MAX USA will be introducing several new 100-PSI tools at STAFDA in Phoenix.
---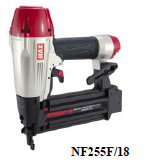 The new models include the NF235F/18, NF255F/18 and the TA238A/18-6.
MAX developed these tools as a direct result from the feed-back we received from
North American customers.
MAX will also be offering a special STAFDA promotion on these tools at the show. Make
sure you stop by our booth 712-716 and talk to your MAX salesman.
MAX will also have on hand its new HS130 5 1/8" nailer as well as its complete line of 400-PSI tools. MAX has recently experienced a spike in 400-PSI business as these unique tools continue to gain a foothold in North America.