Powers Fasteners Expands Global Footprint To Include India
Powers Fasteners has established offices and warehouse facilities in Mumbai, India with additional warehouses in Delhi.
---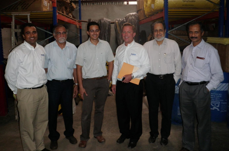 Ajay Kulkarni will serve as Managing Director of the new operation while Sumit Bhattacharya will serve as Chairman. Kulkarni comes to Powers Fasteners with 15 years experience with AEG Power Tools, as well as directing the operations of a private distributorship specializing in electric tools, Concrete anchors and fasteners. Bhattacharya was the Managing Director of Proctor & Gamble India, and has a degree in engineering.
"Our new operations in India will give local contractors and engineers the local support needed to help continue the growth in the region," says Jeffery Powers, President of Powers Fasteners.
The India operations will be open for business on October 1, 2010.
Powers, based in Brewster, NY, is a leading marketer and supplier of concrete anchoring systems and also offers an extensive line of adhesive systems, roofing fasteners, gas and powder actuated tools and fasteners, carbide drill bits and mechanical fastening systems. The company has been serving professional construction and plant maintenance markets since 1921, and has 25 regional sales locations in the United States as well as international locations throughout the world. For more information visit www.powers.com or call 1-800-524-3244.