Powers Fasteners makes strategic management changes
Moves are designed to ensure long term success.
---
Brewster-based Powers Fasteners, the largest supplier of professional mechanical and adhesive anchors in the United States, has announced a strategic succession of management for its family-owned business.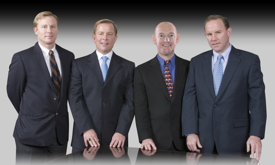 Chris Powers, formerly company CEO, will assume the advisory role of Chairman, while Jeffrey R. Powers has been promoted to CEO of Powers Fasteners global business, operating in eight countries worldwide. Frederic Powers III, former VP of Purchasing, will be President of Powers Fasteners Inc., the largest Powers business unit with 26 warehouses and 185 employees throughout the United States.
Mike Fergus, former VP of Global Operations at Black and Decker's Accessories Division, has been hired as VP of Purchasing for Powers Fastening Inc. He was responsible for facilities in the U.S., Canada, UK, Germany and Asia, as well as all the commercial responsibilities relating to supplier relationships around the globe.
Mike has a vast background in international manufacturing and supply chain, holding an MBA from Loyola, and an engineering degree in Industrial and Mechanical Engineering from Leeds University. Mike joins a Powers Executive staff of six career professionals with more than 100 years of experience.
Chairman Chris Powers commented on the new structure at Powers, stating, "These corporate changes represent the natural evolution of a rapidly expanding business. Powers Fasteners is currently a healthy, dynamic entity poised to expand on a global basis. We have helped ensure prosperity in every country we serve, but we also need to be forward-looking, and continue our investment in people and products for even greater success worldwide. Our father and grandfather laid the foundation for this business more than 50 years ago, and today's changes represent a step forward in securing the success of the Powers brand and legacy for our customers long term."
For more information, call 800-524-3244; write to Powers Fasteners Inc., 2 Powers Lane, Brewster, NY 10509, or visit Powers' website at www.powers.com.